This was on pg. 30 the October 2007 edition of Hot Rod:
Two forms of forced induction to a 426ci new-gen Hemi to coax out a claimed 1,200 hp.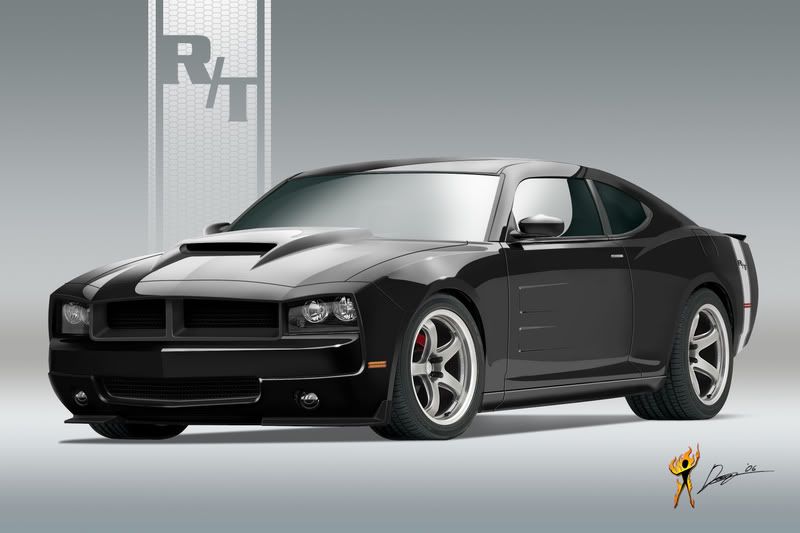 www.forceperformance.biz
CHARGER Coupe
Half the Doors, Three times the Horsepower
Two Turbochargers, One Supercharger
ENGINE
Indy Cylinder Heads 426 New Hemi
FAST XFI Engine Management
Twin GT40 turbochargers
Fabricated Turbo Headers
Roots style high helix Supercharger
Custom EFI Blower Intake
FORCe Billet Fuel Rails
FoRce Billet Throttle Bodies
BODY & EXTERIOR
2 Door Conversion
Flared Fenders
Extended Nose
Air Dam
Revised Hoodscoop
Integrated Rear Spoiler

SUSPENSION & DRIVETRAIN
3 Piece Avus Wheels
Upgraded Brembo Brakes
High Strength Axles
Lowered Suspension
Subframe Connectors
INTERIOR
Autometer Nexus Gauges
Shrifter Paddle Shifter
Custom Leather Seats and trim
Custom Console
Leather/Cloth Door Panels
Navigation System
Audio/Visual System
Looks like some good performance parts to come. For the power part, rather than battle the notoriously stubborn Chrysler engine management, the Indy-headed Hemi will use a FAST XFI system to dial in the Roots supercharger and twin turbos.