Discussion Starter
·
#1
·
The Cars of Daytona 500: How They Compete from Track to Street - MSnide Asks: Huh! Are You Kidding Me?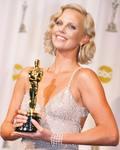 Charlize Theron - Wins Oscar
Snide's Remarks;
Although we can't fault the creative concept behind this press release we must deride the attempt to actually try to compare NASCAR race cars that happen to share some sheetmetal with a manufacturer's paid for (and handsomely we might add) revolving sandwich boards and a real honest to goodness (or badness) street version of that model available for purchase at your local dealer. Good, no actualy a bad idea NADAGuide, what's next comparing Charlize Theron's $10,000 Oscar gown with a Kmart knock off...come on guys, but hey, thanks for another opportunity to use this great picture of a very beautiful and talented lady.
COSTA MESA, Calif., Feb. 18 -- NASCAR enthusiasts across the world are anxiously awaiting their Super Bowl of racing -- the Daytona 500 -- which takes place this Sunday, February 20th at Daytona National Speedway in Daytona Beach, Florida. 43 cars take to the track but only three makes and models have a chance to compete -- the Chevrolet Monte Carlo, the Ford Taurus and a newcomer to the field, the
Dodge Charger
.
Today's stock car is anything but 'stock.' During the course of NASCAR's 53-year history, the cars on the speedway have evolved from true roadworthy stock vehicles into the technologically advanced, ultra-enhanced machines we know today. In the beginning, NASCAR racecars were modified versions of the same cars you could buy from your local car dealer -- this lead to the popular saying 'win on Sunday, sell on Monday.' Manufacturers sought to get the attention of fans in an effort to sell more cars. Today's stock cars are sleek
speed
and performance machines, built with state-of-the-art technologies and top-of-the-line mechanical components.
While not all of these design elements are available for public consumption, car shoppers still reap the benefits from the car's race-derived research, such as its physical shape. This design feature is carried over from today's showroom to tomorrow's NASCAR racecar based on careful analysis of wind tunnel testing -- testing that influences the overall design of production cars and ultimately, the overall design of racecars.
After Sunday's race, it will become obvious how the Charger, the Monte Carlo and the Taurus stack up on the track. But how do these cars compete on the street?
The experts at NADAguides.com (
www.NADAguides.com
), a leading vehicle information website, offer a side-by-side look at all three -- from price to performance.
Pitting the Chevy, the Dodge and the Ford against each other, here's how they match up in the showroom. NADAguides.com compared the model years of the cars that will be racing Daytona this year.
Make/Model/Options Base Price HP/RPM LB.-FT. Torque
2005
Ford Taurus
$20,830 153HP @ 4900RPM 185 lb.-ft. 4-dr sedan, V-6, front-wheel-drive
2005
Chevrolet Monte Carlo
$22,280 180HP @ 5200RPM 205 lb.-ft. 2-dr coupe, V-6, front-wheel-drive
2006 Dodge Charger* $23,600 250HP @ 6400RPM 250 lb.-ft. 4-dr sedan, V-6, rear-wheel-drive (also available in legendary Hemi V-8)*2006 Dodge Charger information available at NADAguides.com in coming weeks.
About NADAguides.com
N.A.D.A. Appraisal Guides (NADAguides.com) is the world's largest publisher of vehicle valuations and specification information for new and used cars, trucks, vans, and SUVs, as well as van conversions, limousines, classic and collectible cars, boats, RVs, motorcycles, snowmobiles, personal watercraft and manufactured housing. The company's consumer website, NADAguides.com (
www.NADAguides.com
), offers a variety of new and used vehicle services in addition to valuation information. Throughout its 70-year history, N.A.D.A. Appraisal Guides has earned the reputation as the recognized authority for vehicle valuations. Its website, NADAguides.com, is the most comprehensive vehicle information resource on the Internet today.
Link:
http://www.theautochannel.com/F/news/2005/02/18/036082.html