2015 Dodge Charger SXT+ RWD
Discussion Starter
•
#1
•
3.6l Dodge Charger SXT RWD (2015)
I just came to find out my rotors were bad due to poor maintenance/long time wear and tear and the previous owner neglected to change the brakes before he sold the car to me. I had also dulled down my brake pads and hadn't gotten to replacing them which dug my grave even deeper. Anyways I was thinking about purchasing TRQ drilled/slotted rotors and they cost $175 which seems pretty cheap for performance rotors which also include brake pads
first question- does anyone know if both the front and rear rotors on this (RWD) model are 12.6 Inches (320mm) in diameter?
second question- can anyone vouch for this brand? It looks way too good to be true but they have reviews which seem positive?
last - if anyone knows of good rotor sets that aren't crazy expensive and would fit my car that you can vouch for, please link them in the thread.
Link for the rotors I was thinking of buying:
2015 Dodge Charger with 12.6 in. (320mm) Diameter Front Rotors Front & Rear Ceramic Performance Brake Pad & Rotor Kit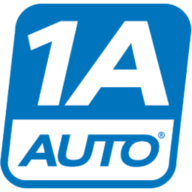 www.1aauto.com