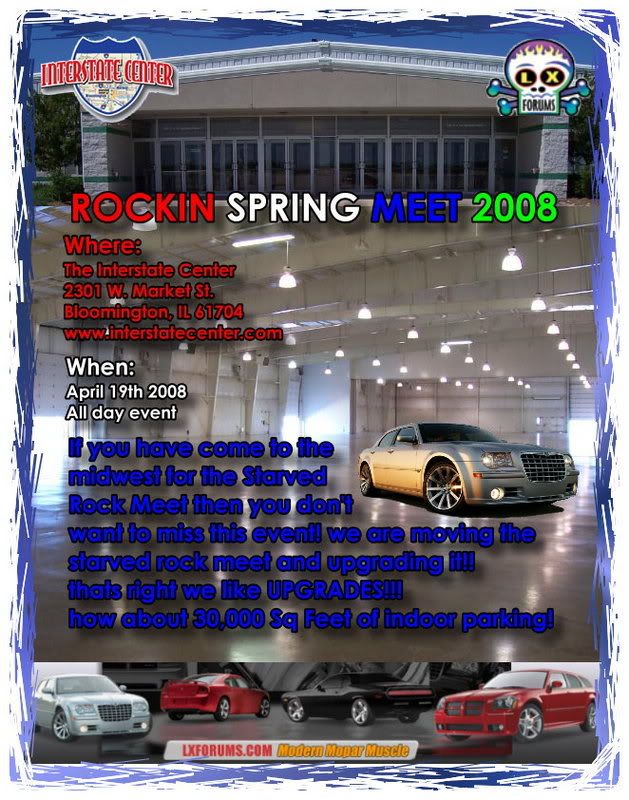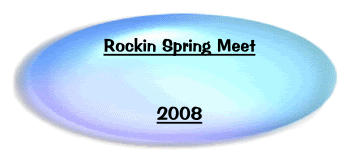 To register click the Icon above, please include your screen name and car type in the box as shown here

as of 12/8/2007 I have started the regestration for the meet. Entry Fee will be $25 for any LX or attending car. non LXs that are attending that park outside will not have to pay the $25 Entry Fee. For all LX and Jeep SRT Entrys it will be a first come first serve entry, we should be able to get 100 Cars inside so as it sits we dont even have that many on the list, but we have 4 months yet.
Food
Members Have been asking about food, The Interstate center has rules about carryins and such, they do have a catering service, we can have them make box lunchs, cost is $8 per box lunch. as a BONUS our very own member (HOTDOG) has stepped up and is using his connections to bring free nachos for everyone!

I had to twist some arms at the Interstate center to get this to work.
Hotels
HOTEL INFO! Thanks to: TorRed

OK, we're all set to go. This is the hotel:

Country Inn and Suites
923 Maple Hill Road
Bloomington, IL 61704
(309) 828-7177

ROOMS: 50 rooms have been blocked off for us. They will hold the rooms until March 20th, then they will be released to the public. All but 2 of the rooms are non-smoking, so if you want a smoking room, be sure to let them know up front. Rooms have been blocked off for both Friday and Saturday nights. You can stay one or both nights for this rate.

RATE: The rate for us is $89 per night plus tax.

PARKING: There is a closed Country Kitchen adjacent to the hotel property. We are welcome to park there if we want to park all together. That way, we are not lumped in with the other hotel guests, and door dings, etc. will be minimized. Of course, you are welcome to park on the hotel parking lot if you wish.

IMPORTANT: The rooms are blocked off in the name of the LX Owners Club (all I could think of on the spur of the moment). So when you call, be sure to mention that you are with the LX Owners Club to get the rate and one of the blocked-off rooms.

Even though they are holding the block until March 20th, it would be good to register as early as possible. This helps prevent any rooms in the block from accidentally getting sold. And, an early show of support lets them know we are serious.
Sponsors
First I wanna say thankyou to BT for taking the first big step in helping support this meet just as they have in the past! and not only will they be attending the meet. they are bringing the BT Charger and an all newCaliber SRT4 (taking delivery in January) cant wait to see that thing!!

Total Lighting Solutions is dedicated to providing the best experience to the customer with all of their lighting needs. Customer satisfaction is our primary goal. Offering Bosch Xenon kits and interior LED kits for any vehicle. We specialize in Mopar however, and will be at the show with all of our products in stock.

also thanks to anyone who has helped and will help this meet take shape, we have some time before the meet is going to take place but the more names we get on the list the better!
This is going to be a FAMILY event! we will have lots of stuff for the kids to do! so parents dont feel like you have to leave them behind or not attend because you think its gonna be boring..
WE ARE LOOKING FOR SPONSORS! anything will help please contact ME via PM for details.
keep checking this main post for updates, added sponsers, and more names added to the list. any comments, questions? just ask away!
here is the list
if you have something next to your name pay no attention it my way of keeping track of where you are.... LOL
here is the list
if you have something next to your name pay no attention it my way of keeping track of where you are.... LOL
the + means you have paid an extra $20.00 or more over the $25 to help support this meet, doing this gets you a special VIP sticker from TorRed
1.wisconsinmagnum Paid +
2.Super T Paid +
3.Zodiak Paid
4.quickkarl Paid
5.antolod Paid
6.vinny68 Paid +
7.hops23 Paid +
8.GasGunR Paid
9.Phatty Paid
10.06TB2066 Paid
11.Lafrad Paid
12.bpd1151 (CF) Paid +
13.cleland500 Paid
14.daniel454 Paid
15.ChitownMSRT8 Paid
16.BilletTechnology Paid
17.Flanman Paid
18.F1fan Paid
19.fgleloup Paid +
20.HAMMY55 Paid +
21.m3_il (JF) Paid
22.TorRed Paid +
23.rlagge Paid
24.fastwagon Paid +
25.Ricover (CF) Paid
26.Thad(deus) (CF) Paid
27.CookZ32 Paid
28.Marley Paid
29.300 LIMO Paid
30.CHARGER LIMO Paid
31.Puppypants Paid
32.fastcharger (fastwagons evil brother) Paid
33.BacknBlack Paid
34.Super Bee 751 Paid
35.pickle R/T Paid
36.Motor Paid +
37.Jontoad Paid
38.NILLAKILLA Paid
39.JP300c Paid
40.UPS-Charger (CF) Paid
41.elcobra44 Paid
42.hemiman Paid +
43.eblade (JF) Paid
44.PALELLA (JF) Paid
45.HemiPowered5700 (CF) Paid
46.Hemi-Dave Paid +
47.Fireman512 Paid
48.DaveW86 Paid
49.SScharger Paid
50.AGGOST Paid
51.SublimeDaytona268 Paid
52.JeDiHemi Paid
53.dartboy Paid +
54.hotdog
55.crazylikeacharger
56.JRB73IN
57.flyboy
58.motor-x
59.Grinner
60.kiddo300c (CZ)
61.04hemipwr
62.JimmyD (CF)
63.R/T sucks gas & hauls ass
64.sublime #0018
65.mebe
66.magwag
67.DemonSpeed
68.Birdman2
69.jasonr_01
70.DA_X_6 (CF)
71.carbondave (JF)
72.toothdoc (JF)
73.godfatherSRT8 (JF)
74.MrMopar
75.mlgreen
76.srt8dork (JF)
77.SLT-SRT8
78.Dantra X2
79.Milkshake
80.Simans82
81.The Pun (JF)
82.Show
83.DodgeDude99 (CF)
84.Serbs_Hemi_C
85.
86.
87.
88.
89.
90.
91.
92.
93.
94.
95.
96.
97.
98.
99.
100.
^OUR GOAL^