Had a small question for anyone to give their thoughts on.
Its basically in relation to exhaust setups, more geared towards the custom setups or the companies catering towards exhausts (blastin bob, exhaust depot, etc)
The main thing that most people on here have complained about is "drone" which is basically excess vibrations the occur at certain speeds.
The other issue i've seen peeps complain about is raspy notes at higher rpms, which for most, a simple fix is a decent sized resonator. but all a resonator is, is a "SUB-MUFFLER" or smaller muffler when you get to the bottom of it.
so heres the question. in replicating the stock setup, has anyone ever thought about (and this would be about the easiest way to do anything) just simply replacing the mufflers installed with Free flowing, straight through mufflers? even if you want to do "TRUE DUALS" you'd still be using 3 mufflers like its done on the v8's.
the two problems above occur when theres not enough muffler sound absorbing material to absorb the excess sound or sounds most people deter.
so for example, where the suitcase goes, used a relatively good sized dual in/dual out muffler (but straight through, i.e borla, magnaflow, remus). then where the STOCK mufflers usually reside near the rear bumper, setup another(or two depending if you do a true dual or single) smaller muffler to absorb the excess (drone) that isnt picked up by the first muffler.
dodge had to have it right when they did this BOTH on the single and dual setups on the 2.7 to the v8's. it works.
i mean i'm not sure what everyones goal is, obviously. some are just doing it for looks and dont care about the performance side of things.
myself i'm thinking about it from a performance/efficiency/
and
looks side of it.
both the magnaflow (bottom) and the mopar/borla (top) have the tri-muffler setups.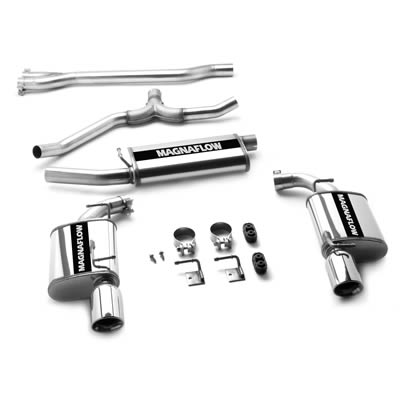 just seein what everyones views are, cause as of late, theres been a few people scarred out of doing their exhausts due to complaints about some of the setups custom done and from the vendors.
myself personally, am not trying to make my v6 sound like a v8 or anything else. i dont really believe in having excessively loud exhausts (and i'm young in my 20's) cause i know if you have the power, the power will make the noise, but if you alter something that makes alot of noise, it doesnt exactly mean you have something powerful.
as long as quality parts are used, such as borla, magnaflow, etc (basically the straight through free flowing companies) the setups offered are only as good as their design. its not exactly the mufflers being used, but possibly the lack of mufflers needed to build a setup to where theres no drone and or high pitched sounds...
just another option for people who havent done exhaust yet, to look into.
any thoughts?