Discussion Starter
·
#1
·
Well.....Al's 12.58 motivated me to hit the track this weekend with my new Mopar TCM...lighter ROH wheels so all the ingredients were in place to break some records with the FRI Street Port / Sidewinder combo.
Result...
R/T .323
60' 1.78
330 5.202
1/8 8.028
MPH 86.57
1000' 10.48
1/4 12.54
MPH 110.44
I am not foolish enough to think this record will stand for long...too many strong cars out there to say where the records will end up this fall but it does demonstrate what one can do with a cost conscious, true bolt on, mds capable combination.
Notes: I ran all day with the Mopar Performance PCM/TCM combo trying to get the most from the newly released MP TCM which has a greatly improved shift management schedule...really tamed the Pro Torque converter...to the point where I couldn't load it past 2600rpms...with Superchips/Stock TCM I could load to 3200rpms!! 1-2 is now very firm....2-3 is strong.
I knew it was going to be a fun day when it turned 12.58 @ 109 right off the street without cool down. The car was running pretty damn consistent all day long (except for some wheelspin)....12.54, 12.57, 12.58, 12.59 @ 109-110 mph.
DA ranged from near Sea Level to +400....

12 Second database updated
Timeslips (Car #342):
12.54 run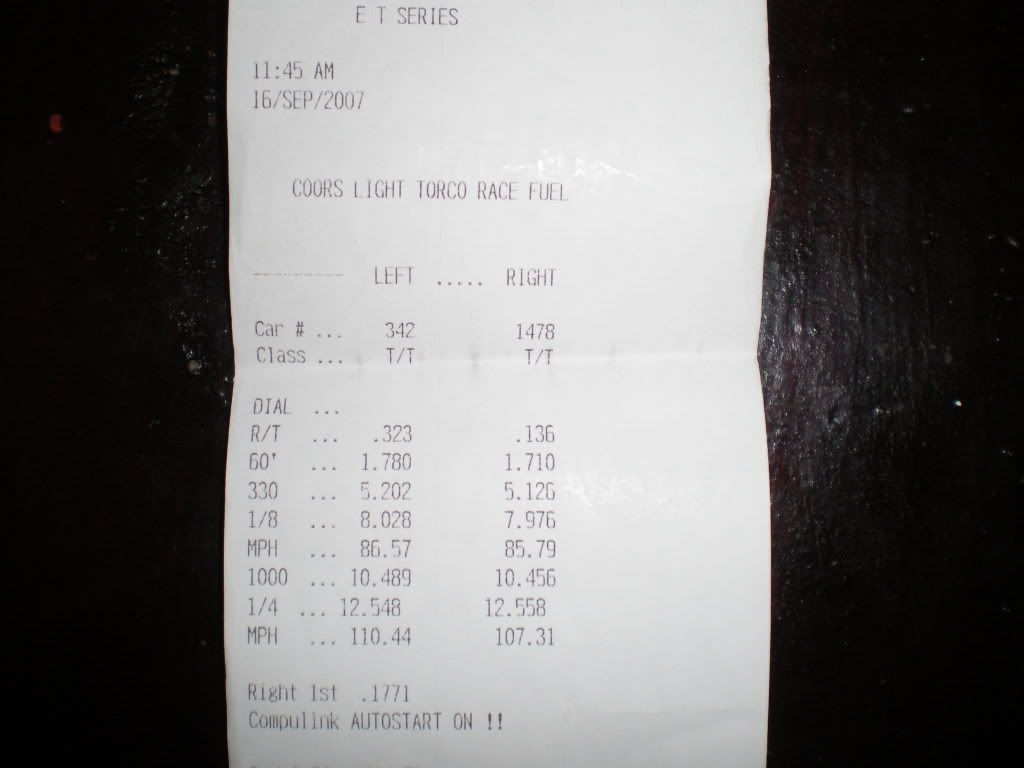 Other 12.5 runs today..