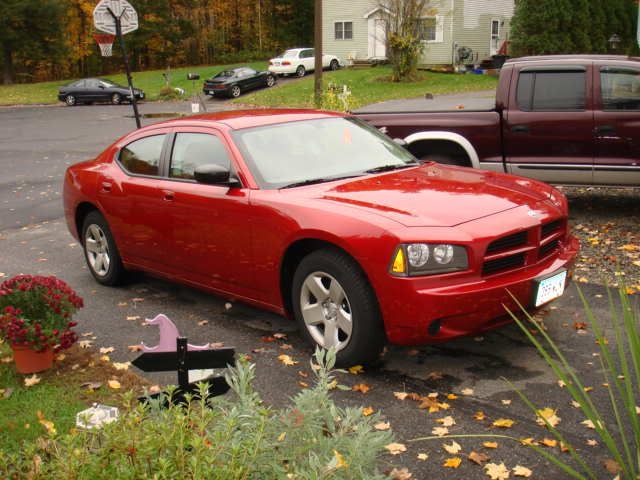 2008 Charger SXT haha, silly humor...
Seriously, I got a rental from the local dodge dealer's body shop manager. I kept busting him about getting a minivan in turn for taking my Charger for the day...imagine my surprise when I walk outside and see a 2008 Charger SXT sitting there...hehe. Had to bust MoparLonewolf...
let me take you all a day backwards to understand the story line-if you heard the jeering for my birthday a day prior-Video Kid buys Mom a Daytona Charger (silver) Matchbox, tells me to put it in my V6 to dream for a Hemi; Transformers comes out on DVD, we rent it, and Video Kid says at the scene with the concept Camaro "Mom, why can't your car sound like that?"; yeah he got grounded for a month for that one
j/k; I have a dream and in it, I TRADE MY CHARGER IN FOR A KIA!! What the h e double hockeystick is wrong with that dream! Anyway, when I called the dealership back to get my blue Charger back I was told no...and that all they had on the lot was a sliver Charger R/T!!! (That part wasn't so bad but I WANTED MY CAR BACK....it's one of those dreams I woke up from went out and kissed my car thankfully seeing it in the driveway!!!! Next day, moparlonewolf and mrs. mopar gives me a card for b-day with a red corvette on the front saying they would love to buy me a new car, but settled for the new car scent (air freshener included)
thanks MoparLonewolf, the laugh was on me when i showed up at your doorstep with a not a red corvette but a red Charger...alMost the same color as yours....
but alas still not a Hemi. The best was yet to come when I arrived to work on thursday and had two people thinking I actually DID spend all night in the garage painting my car and removing the spoiler, haha, the look on their faces-damn where was my camera then???
Moral of the story: Thank GOD I didn't trade my Charger for a KIA.
Seriosuly, I drove the 2008 Charger SXT which had a 2.7 L V6. Doggone slow that one, and heavy as a sled used for the Olympics. LOVED GETTING MY CAR back, and had to tell the story...not to knock any 08 Chargers with the V6 2.7, it was a nice car, loved comparing notes on my car and that one, didn't like the way the dashboard was modified to be more of a sedan boring looking car, but hey...there must have been a reason for the change. I got back in my car and took a moment to thank the heavens for finding my one fine Charger