Discussion Starter
•
#1
•
This Thread is to provoke a higher in depth mechanical discussion of the Lifter plague. I ask no advocating for any type of oil products to be used as the failures I have seen seem not to care. The sample pools for specific types/weights are too small per issue to easily determine type of oils direct impact on the issue. If there is any thoughts or opinions, or even evidence on other factors I welcome them with credible proof. I highly welcome photos of others failures. I have not seen anyone take the lifters apart like I have yet.
Initial Myths, Thoughts, and Physical Evidence:
Having just finished replacing the Cam & Lifters on my 2011 Pursuit I started looking for as much info on to the cause. I've read a bunch of things but there are had little physical evidence that worked well with the theory. Some say its issue mostly with idling in Pursuits, yet other 5.7 in platforms are having same issues. Also seeing some Pursuits with 5K idle hours and 9K engine hrs and no issues. Look across several boards it appears centered around 2011 is where the majority of these failures are occurring. Some stated MDS was to blame but the majority of my failed lifters were the non MDS type. Read where oil does not have enough friction to keep roller rolling on lobe, causing it to flat spot. Which is kinda weird cause if oil is providing such a slippery surface to not have the roller roll, than be hard for it to flatspot as well? The wear I am seeing do not support this cause. Otherwise the roller would be flat and needle bearings/pin would remain intact relativity. And after looking at all the failed lifters there were no real major "flatspots" but a recessed seized roller with surface wear indication damage from seizing. Also, I did find damage on several cam lobes where lifters that showed no wear (movement in roller) rode on. Also add, I my tapping came, with no other issues. Plenty of power no misfires. I was waiting for oil change interval to have oil analyzed. I started having misfire at idle when cold but smooth and plenty of power up top. After getting misfire I decided for sure it was a lifter.
I currently only have Photo bucket to host photos, but I found a ad on on firefox that allows it to work.
The Cam: Damaged areas seem concentrated on the higher stressed parts of the lobe, ramp up and decline down backside.
This lobe had a lifter with no see-able issues.
Another lobe with odd wear but not as bad.
The worst Lobe that started this. Cylinder
#5
. (currently forget if its intake or exhaust)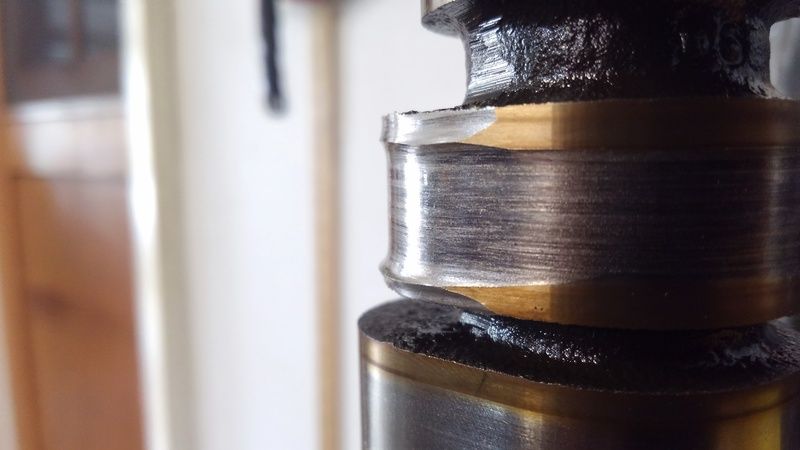 Complete Cam Photo
The Lifter:
This is the failed Pin the needle bearings are centered around the roller tip rolls on. The wear on all my failed lifters are all on one side non centered. I have several in several stages of wear. This the worse one.
Here are the needle bearings pulled. Note corrosion type scarring on surfaces.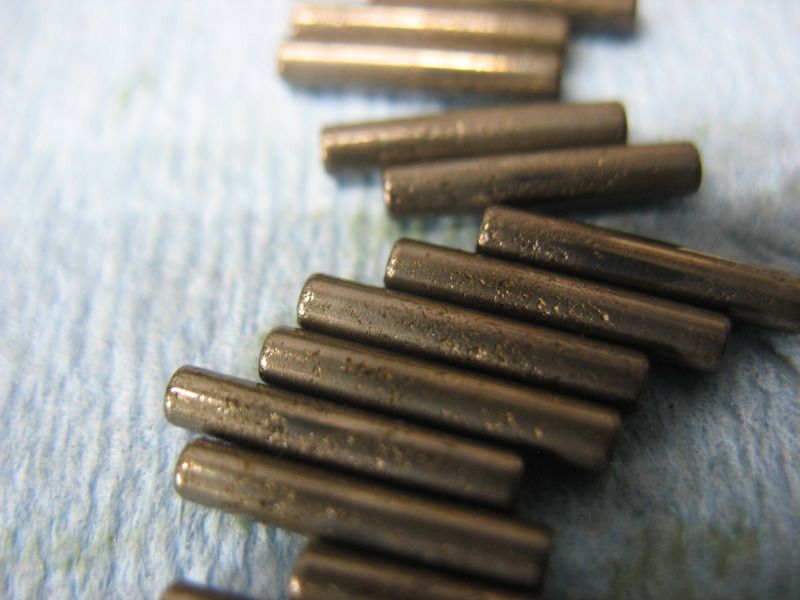 Same Line of photos of a lifter with no appreciable damage.
Note surface of needle bearings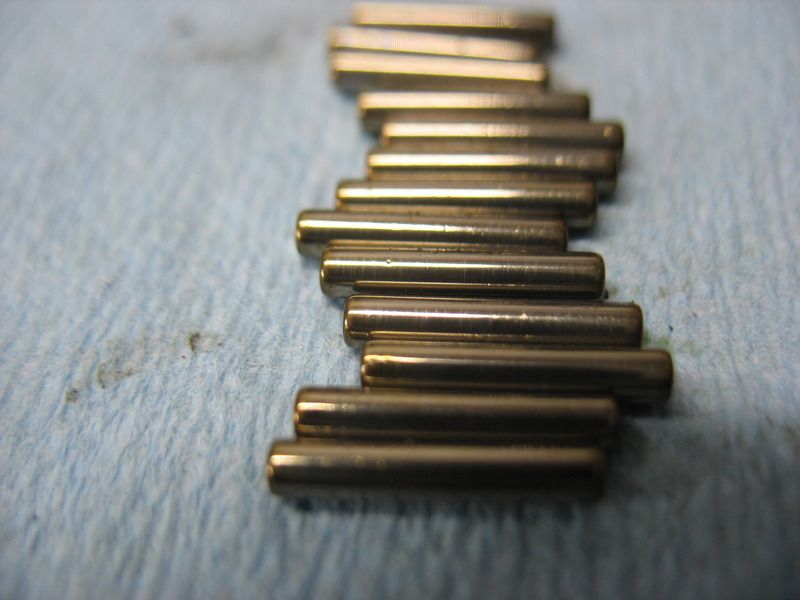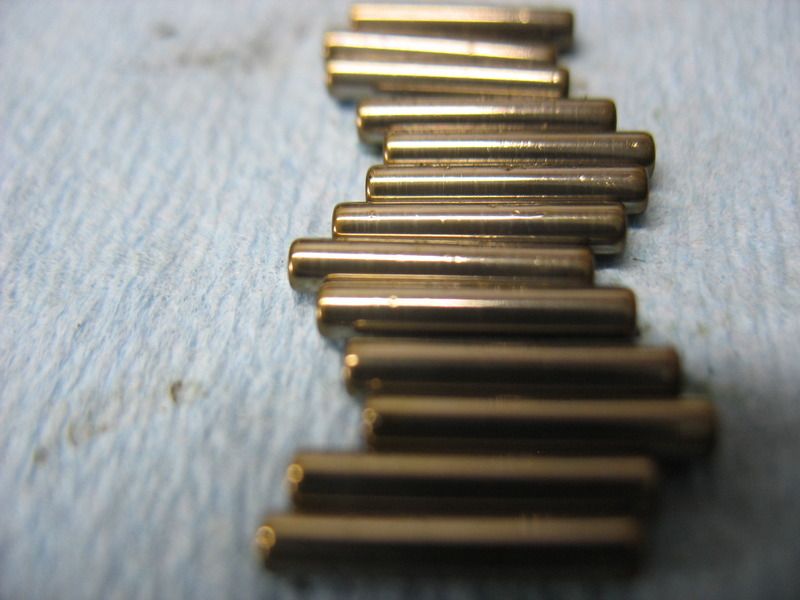 Here is a photo showing the addition of a oiling hole on my new set of lifters (two on far right) vs stock (second from left) and new MDS lifter far left. Perhaps this is a added feature in hopes or knowledge of what is failing?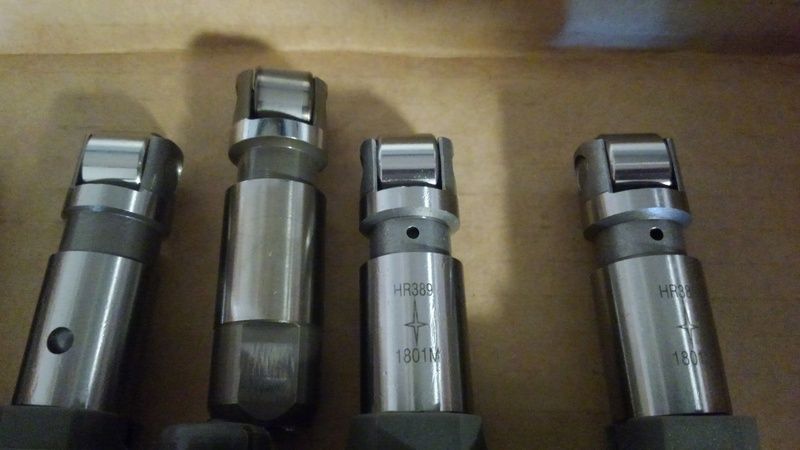 This in mind I have couple conclusions which may be one, or combination of several. From the failed lifters I am theorize the roller seizes from the needle bearings wearing a groove into the pin on the higher stressed area, which eventually has the roller getting more and more recessed into lifter body and getting crooked in place. This eventually leads to a seizure from metal on metal fitment or massive amounts of heat.
Lubrication- Typically lifters via pushrods /pushrods tube/holes are some of the last items to receive oil. ( I may be wrong, I like to have a oil flow diagram of the 5.7 Hemi if anyone has it) The low angle of placement in the block hinders flow back causing some oil starvation at lower rpms. Middle lifters seem to be most effect so perhaps this could be a head or block oil galley design issue. I noticed that at idle is when I had misfire, but higher rpms I didn't. Perhaps at idle there was not enough flow for lifter to gap the loss height of lobe loss but at higher rpms there was for it to pump up and take up the slop.
Parts/Metal Quality - The typical year range across several boards, platforms, fleet, civilian feels like a parts source of inferior metals that was introduced. May have been a hit and miss seeing that not all vehicles were effected. Bad needle bearings or pin they ride on can both suffer from bad quality or machining. Some of the Cam lobes suggest a brittle surface possibly.
Design - Engine Block / Head designed does not provide enough oil flow to lifters to keep needle bearings from deteriorating and creating the wear on the pin. Also Cylinder # 5 popped up ALOT on searches for failed lifters. However many other cylinders have been toasted.