This explains the process necessary to downgrade your CTP Firmware from either CTP15 or CTP14, to the recommended CTP13.
CTP13 firmware is needed so you can update your maps yourself on your UConnect system.
* WARNING - IT IS POSSIBLE TO "BRICK" YOUR UCONNECT SYSTEM, SO IF YOU DON'T FEEL COMFORTABLE DOING THIS, THEN DO NOT PROCEED
Time Needed: ~15 minutes
--------------------------------------------------
Getting Started - What you will need:
(1)
CTP13 4.08 Firmware
(gupdate.gcd)
(2) 2 Clean USB Flash Drives
--------------------------------------------------
On 1 of the clean USB flash drives, create a folder named "Garmin"
Copy the CTP13 firmware file (gupdate.ucd) into the Garmin folder on the flash drive.
Remove the flash drive from your computer, and head out to your vehicle.
As mentioned above, the time needed to complete the install will be about 15 minutes. You can either do this while sitting and waiting for it to complete, or you can do it while driving.
(If you want to do this while driving, make sure to get the process started BEFORE moving your vehicle)
If you are going to just sit in the car and do this, turn the vehicle on in ACC mode (push the start button with your foot OFF the brake).
If you are going to drive the vehicle, go ahead and start the vehicle.
You will now need to go into
DEALER MODE
by following these directions:
Hold down the following buttons ALL AT ONCE for a couple of seconds:
drivers side up temperature
driver's side down temperature
front defrost!
You should now see the following screen: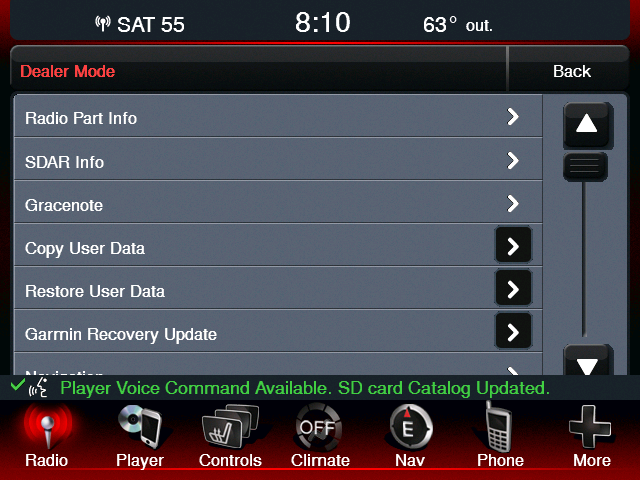 Before you start the downgrade, you will want to back up your user data.
Select "COPY USER DATA" and follow the instructions. It should ask you to insert your clean usb.
Once it finishes copying the user data, you can now begin the downgrade!
Click on the arrow next to "GARMIN RECOVERY UPDATE" and you will see this pop up:
Go ahead and insert your flash drive that has the CTP13 firmware on it and follow the instructions!
Once the process starts, you can either remain in your vehicle and wait, or go for a drive if you need to!
After that is complete you can now "RESTORE USER DATA"
Once that process has completed, you would now be able to start your map upgrade process described here:
HOW TO: Map Update on Uconnect CTP13+ (2013 - 2014)