I just got in my Oracle HIDs from Flybyou a wonderful Seller 2 days ago. Nothing but good things to say about him. But i had some severe issues with fitment. After my first attempt at installing the HIDs i got severly frustrated.Noticed that the Bulbs would not go In fLush. SO i resorted to reviewing every possible Install thread on CHargerforums.com. NONE WORKED!!!!!
The HID bulbs would not fit flush enough to turn and lock. Flybyou(Dan) and others who have HID told me you have to push hard and evenly they will go in.. Well i got them in almost then i decided to figure out why they werent working right.
Well i thought BS.. Nothing should be forced in hole... Find out why it doesnt fit.
DynoXG stated in his write up that you may have to trim tabs. I cant speak if that is still neccessary or not since i did trim my tabs and they still didnt fit for me.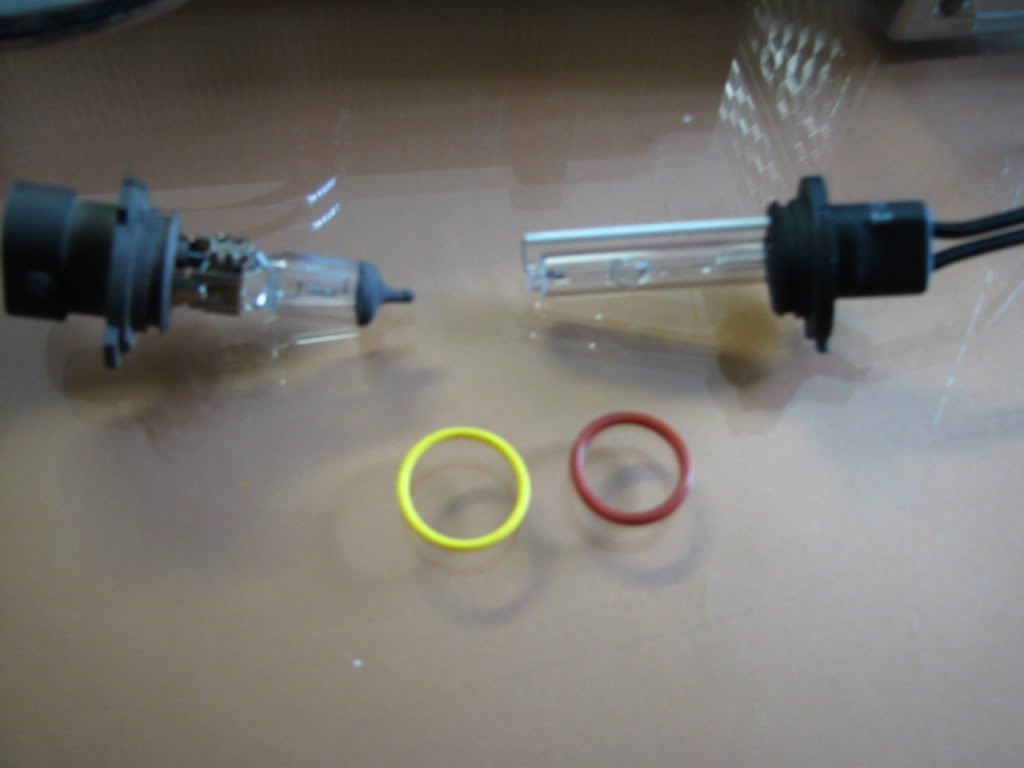 In pic above there are Orings around the bulbs which keep a tight seal in the Headlight housing.. they were actually different sizes.
The halogen bulb has a Yellow(COLORS MAY VAR DEPENDING ON MAKE OF BULB) smaller O ring.. and the HID has a RED larger Oring. It may not be as evident in picture but look at the Lighter shadow.. My camera could not focus good enough to show thickness. but the 2nd shadow shows the tale.
The yellow Oring off the halogen is significantly Thinner. Its something so small and so easy.. And saves a lot of headache and unneeded pressure on the housings. The reason many if not most of you all had to push so hard to get the Lights in. Its becasue your fighting a rubber O ring. Which is hard to compress.
Swap the o Rings out and your HID bulbs will slide in like or if not easier then the halogen Bulbs do.
SO before you trim tabs... Please try swaping Orings.. And those who had this problem but still got there bulbs in try this when you have time and if you still have the old bulbs. you might be surprised. or mad.
My lights look amazing by the way Thanks Dan...