I thought I'd do a few runs pre/post Predator tune to see what kind of difference there was. The car is a 2006 Charger SRT8, just a Mopar CAI and a 180 'stat. Runs were done on a flat deserted area near the bay, in both directions to negate possible slope or windage. Full tank of gas for each set. In short, as well-controlled as I could make it. The GTech measures acceleration in multiple axes; it has been tested to be quite accurate when compared to the traps at the track. Using this device, 0-60 times will suffer if there's wheelspin... unlike the EVIC timer.
I ran seven times under each tune and analyzed the data using GTech PASS RR 2.0 software, with a 12" rollout as per Road & Track and Car & Driver. I tried a variety of launch RPMs on brakestands, with ESP "single press" disabled. Below are the three best 0-60 times for each tune:
Stock tune:
4.889 sec
5.121 sec
4.974 sec
Average: 4.99 sec
Predator 91 CAI tune:
4.778 sec
4.823 sec
4.802 sec
Average: 4.80 sec
I think the data are pretty tight, and I'd say dropping 0.2 sec is both reasonable and worthwhile. I'm working with a friend that has a dyno to see if he will add the Mopar CMR software to his license from Diablosport... if so, we will do a custom tune and see if anything better can be achieved on this (mostly) stock car.
As previously mentioned, the Predator tune is making the car quicker at the 1-2 shift. Check out the HP in this plot: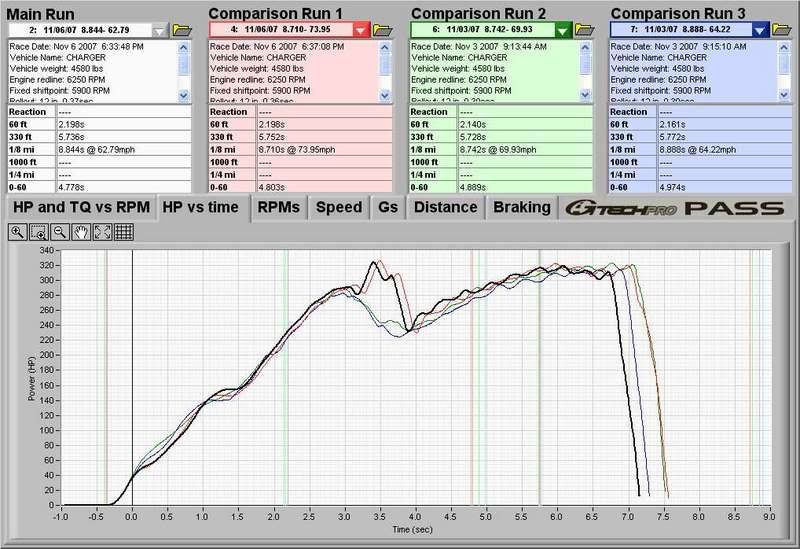 You can see the 1-2 shift very clearly; the red and black traces are from the Predator runs, while the green and blue are from stock runs. The Gtech computes the HP from actual vehicle weight (input by driver) and g-forces measured. Rolling resistance and aerodynamic drag cause this number to be lower than that seen on a dyno.
So there you have it.