Holy CRAP does she pull
HARD
! That pretty much sums up my reaction during the first couple of test drives after the Sidewinder Cam swap (w/ stock heads) we finally did this weekend.
I've been talking about and planning this upgrade for quite awhile and I'm happy to say - we got 'er done and she runs friggin AWESOME. 400rwhphemi from this forum (Luke) and my buddy who's been wrenching on GM's ever since he was a kid lent their hands to finish the install. I gotta give some major props to 400rwhphemi as he did a fantastic job and although my buddy and I MIGHT have been able to do this ourselves, it would've taken us twice as long and I'm sure I would've screwed something up. This install makes it 400rwhphemi's 14th cam (or head) swap on a hemi and that experience sure as heck came in handy. If anyone in the Ohio / Michigan area is considering to do a cam or head upgrade, I'd STRONGLY recommend talking to 400rwhphemi. He's going to save you a LOT of headaches and coin.
THE INSTALL:
Parts that went in: FRI Sidewinder Cam, 6.1L Springs, 6.1L Rods, new crank bolt (we didn't use the head bolts as we left the heads on).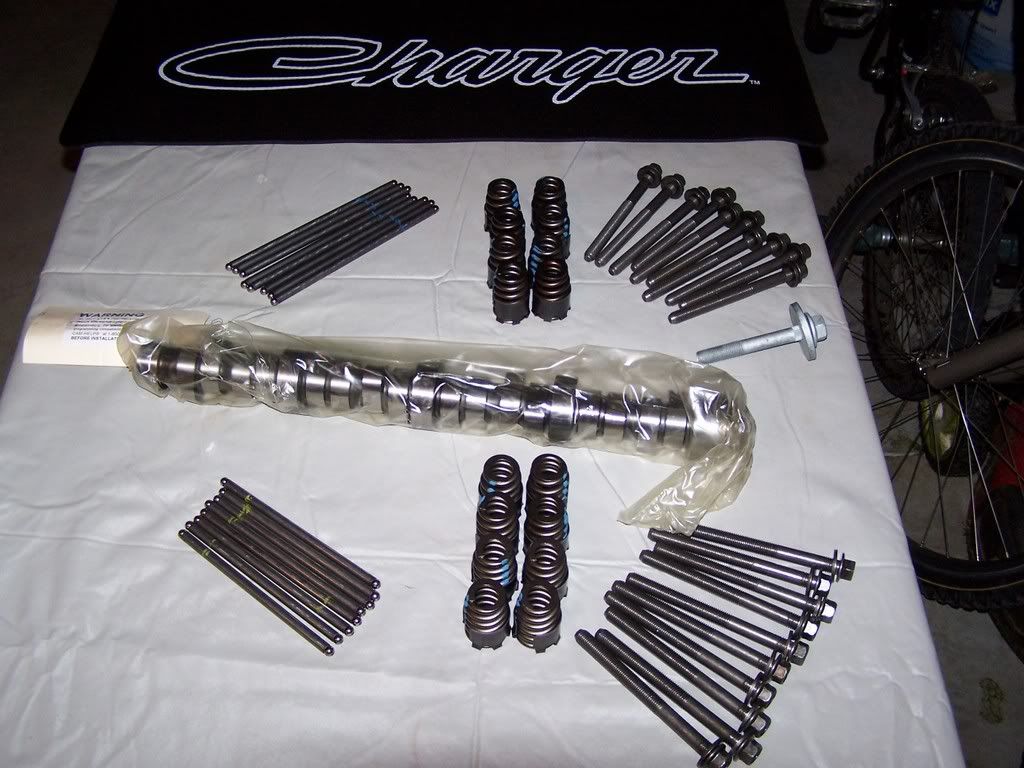 Valve covers off - working on the rocker arms. Yep - 400rwhphemi's a young pup but don't let that fool you - he does great work: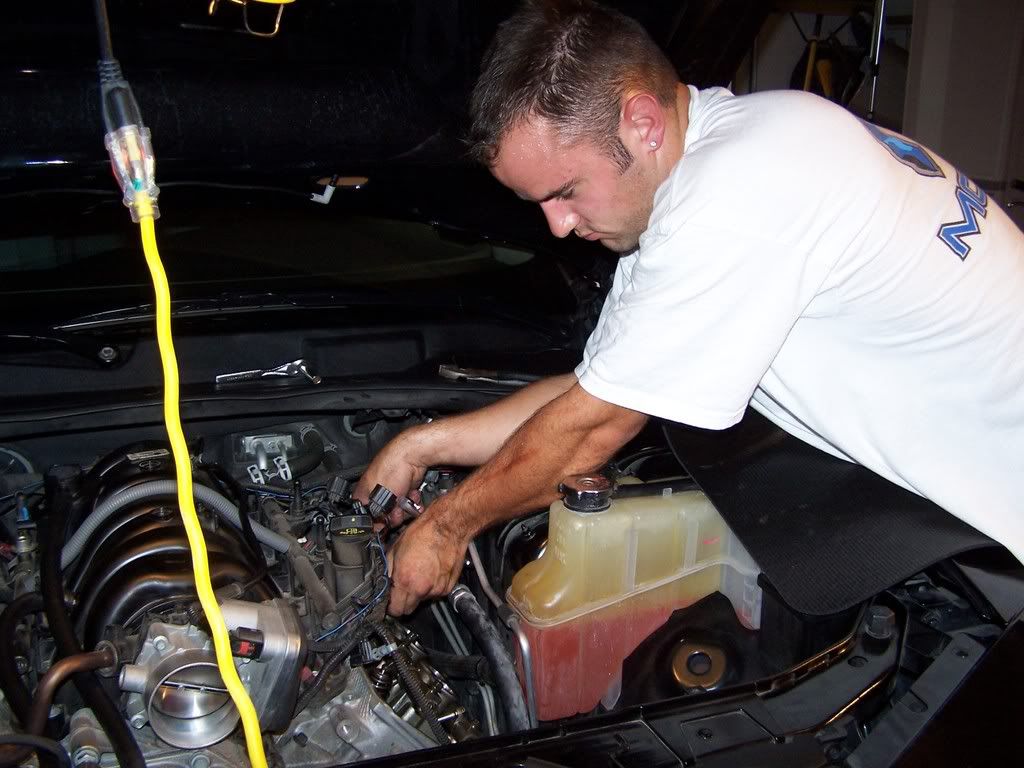 Most of the front accessories off, water pump to go next:
We didn't completely remove the radiator but simply dropped it enough to gain the access we needed to the crank and cam:
Whoever said you can't / shouldn't change the springs without removing the heads hasn't seen 400rwhphemi and his spring changing tool at work. Don't get me wrong, it wasn't easy (especially getting those damn little keepers on) but after doing a bunch of these, Luke's got a good technique for doing this without cracking the heads. I'm happy to say, we didn't use a single spare keeper that I had on hand just in case we dropped a couple:
The spring tool has two ends - one for compressing the top spring and another forked end for changing the bottom spring. It takes a LOT of leverage to compress the bottom spring but works quite well:
With only 5 springs to go at 1am on Friday, we snapped one end of the spring tool. The carnage:
Doh! We all about crapped our pants but then Luke figured out how he could gain access to the two PITA bottom springs using the other end of the tool and got 'em in.
Somebody suggested using Ziploc bags to keep all the bolts labeled and organized during the tear down. I'd STRONGLY recommend this to everyone. We didn't have any 'leftover' parts afterwards:
We marked the chain and even zip tied the chain to the balancer so that it wouldn't move when we took it off: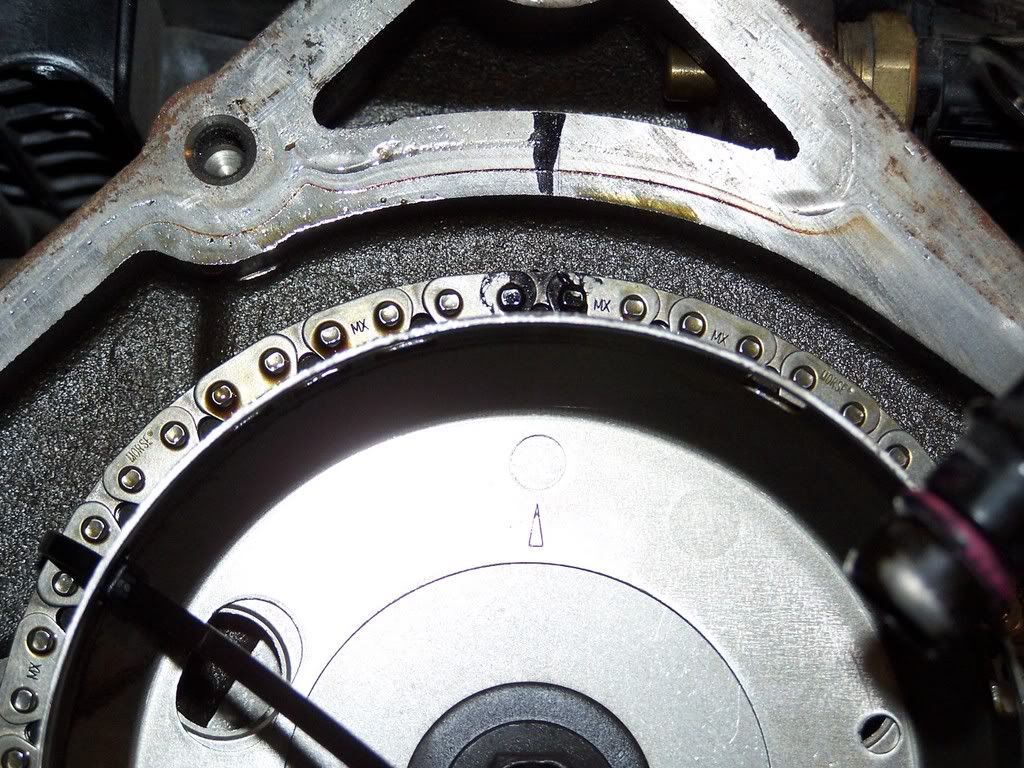 Sidewinder Cam going in. Note that we didn't remove the oil pump on the bottom and simply moved the chain out of the way to get the cam in. After doing so many of these, 04hemipwr had a lot of time-saving tips like this and only completely removed the parts that were truly needed: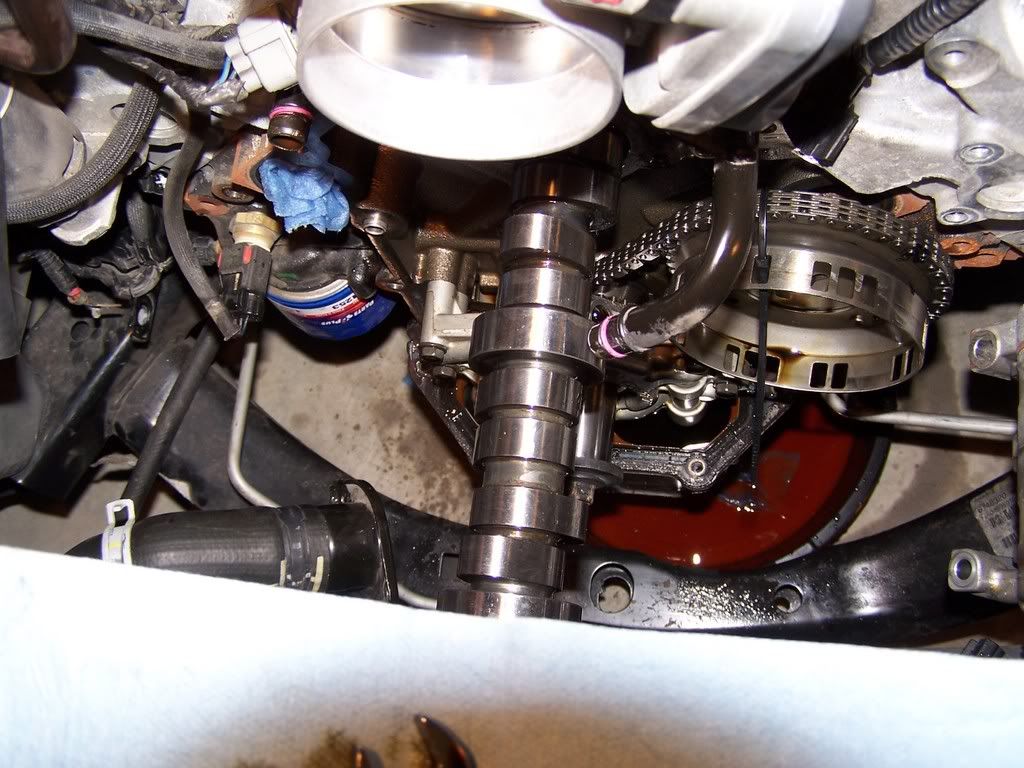 After pulling all the plugs and inspecting, there was only one that looked lean on cylinder #1. Anyone else notice they're running a bit lean on cyl #1?
I installed the Billet Tech oil catch can less than 2 weeks ago (for me about 500 miles) and already had this much oil. Dang...
Shortly after the first drive. Note the BIG smiles on the faces. 400rwhphemi on the left, me on the right.
We spanned the install over two days, starting late on Friday night and finished mid-Saturday afternoon. We had to run to AutoZone to get a 3-jaw puller as the threads were stripped on ours. We were also held up a bit with the snappin' of the spring tool. All said, I'd say we wrenched for a good 12-14 hrs. For most, I think this is an entire weekend long project. 400rwhphemi has done cam/head swaps all in a day but we were somewhat casual with this install, tippin back a few along the way...
THE TEST DRIVE:
After the idle learn procedure (1/2 hour in idle and e-brake on), we took her out shifting 1-2 several times driving a bit slow to make sure she was ok. Then, we began giving her hell.
DAAAAYUM does she pull hard! The butt dyno says it's a MUCH more significant gain than the LT headers were. She pulls stronger at all RPM's and keeps your head pinned to the headrest HARD at high RPMs.
My favorite test was sticking her in '1' and running the RPM's up and then slamming the throttle. HOLY CRAP does she snap your head back now. We tried this first at 4K RPMs and chirped the tires. 3.5K RPMs and chirped them again. We got chirp like this all the way down to 2.3K RPMs. She's never done this before unless it's VERY cool outside (it was 80 degrees out during the test drive) and at about 3.5K RPMs.
I was really anxious to get a 1/4 mile comparison since I just logged a few 1/4 miles on the SC tuner before the install. Conditions weren't too great (80 degrees, hot engine, two passengers in the car) and I couldn't get ANY traction on the several runs that I did. I have to completely re-learn a new launch technique as a spirited 'roll-on-the-throttle' spins 'em everytime now. After I've got some good runs to compare to the 'before' runs I'll report in a separate thread. I'm expecting a noticeable gain for sure, if I can only get some traction...
THE THANKS
BIG thanks to the FRI guys, Steve and Lee for lots of advice and help along the way, 400rwhphemi for a great effort, my GM buddy and to all the guys who offered advice, tips and nice write-ups on the forums. You guys have all been a BIG help. Thanks much.