Discussion Starter
·
#1
·
OK guys, her are the results of the dyno at ABACUS RACING in Virginia Beach virginia.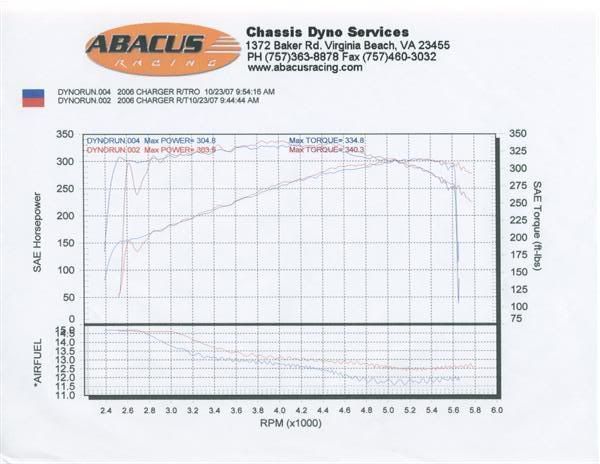 run004--Stock--Blue Run002--Predator--Red
Predator-303.9 rwhp 340.3 rwtq
stock-304.8 rwhp 334.8 rwtq
this showed that I was getting app 25HP and 30ft lbs above stock with my bolt-on mods.
The head tuner there was looking over all of the data, noted that the Predator basiclly unlocks the PCM and TCM for Helping the performance of the stock tune. with A/F and shifting upgrades, some timing adjustments. Does not increase HP or torque. He was impressed with the RWHP and TQ with the mods that I had done. They work mainly with Road racers there, but must dyno work is GM with some fords mixed in. He said that inorder for the Mustang GT's to get that kind of power they have to do Heads and cam w/headers and cats to get close to my RWHP and the same with the 5.3L GM. That Dodge was getting RW power with just the bolt-ons that I have was good. He liked the Charger. He said that now I needed a tuner to twick my canned ones. I just used the 93 w/cai, higher upshifts and limiter.
I do need help with my videos though. If someone will help me I have video and sound clips in Photobucket, but don't no how to transfer to here. I would love to here from Techs about this!!!
Air temp 82f Humidity 88%