A couple weeks ago I was tinkering around and I noticed this HUGE space below the stock air box under the little "shelf" that the air box rests on, it even has a hole which will accept 3.5 OD pipe to pass through. HHHHmmmmmm....
Sooooooo...after some measuring and ordering of various bits and pieces here is the result....A long tube, custom intake that draws air from the empty space behind the fascia by the drivers side driving light. (The air should be significantly cooler here, an added bonus to the better flow of the new intake.)
I used a K&N 9"longX6"base cone filter , some 3.50 OD X .065 wall aluminum tubing, and some intake hose elbows commonly found in diesel and truck shops.
First the pics and comments then the results....
Here we see the intake from the drivers side, outside the car, clean and almost stock looking.
This view shows it from a rear angle from the top and you can see it passing through that little shelf. Look at the top of the pic and you can almost see that BIG filter nestled nicely in that empty space.
Another view from the top showing the pass through. The fliter can be seen better here.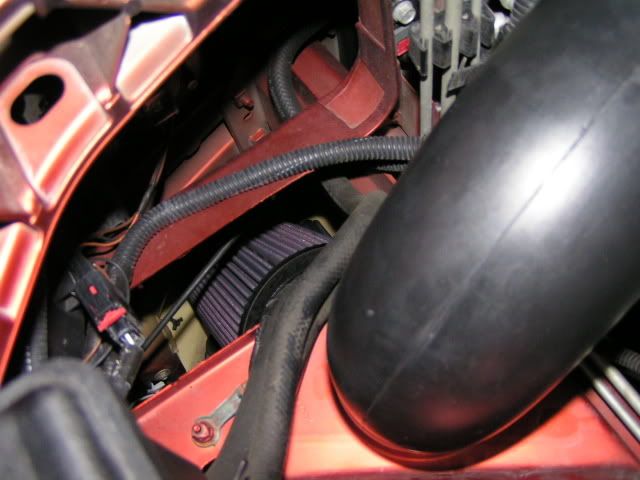 A view from the underside, the radiator is on the right of the pic and the backside of the drivers side driving light is barely visible to the left of the pic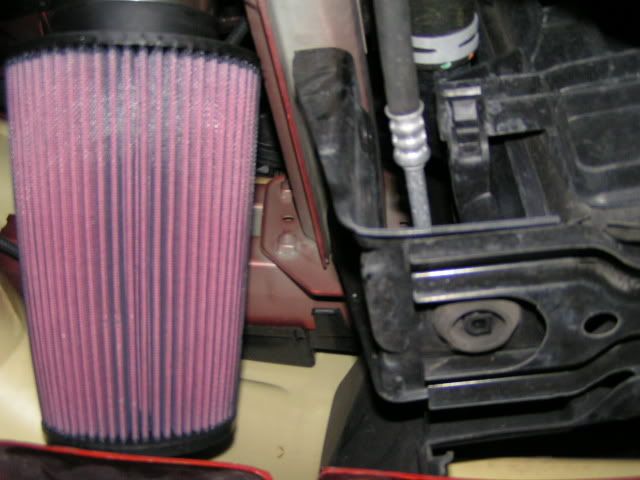 A close-up of the pass through from the bottom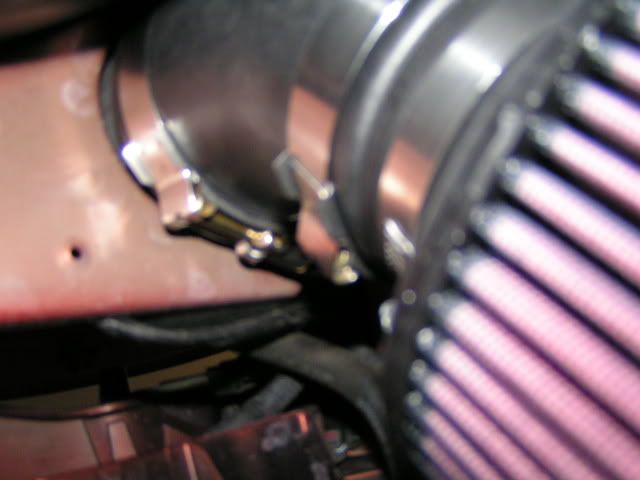 Once done with this, I reinstalled the front apron but not the back one, this will protect the filter from debris and water. (It has been raining here for 3 days and I have run it in everything from an around town drive in the drizzle to 70mph cruising in a mid to heavy rain. NO water ingestion.)
OK, the results, intake temps are down a solid 15 degrees across board, sometimes as much as 20 degrees. I used my SC with data logging to verify before and after temps.
SOTP results say it pulls better in the mid and high range. Second gear 1/4 throttle and 1/3 throttle brisk acceleration is noticebly improved, upper rpm pulls harder too.
The car has gained 2-3 mph at the 1-2 shift at 6100 rpm indicating a few more ponies. ( I haven't had the chance to REALLY flog it yet, just some 0-60 and 0-80 blasts and some 20+ roll-ons) This was all on the first day right after the install, HAL may get a little more out of it yet.:lol:
Cost, a litttle less than 200 bucks and I bought enough parts to allow for mistakes and re-cuts and also an extra IAT sensor so I didn't have to pull the old one out of the stock air box.
Downside, that air filter is a biaatch to change! you have to drop the apron and do it from under the car.:knockout:
(Updated on 09/20 for parts list)

Ok I've had a couple PMs requesting sources and parts so they can build one too so here it is.
The Elbows can be had at
http://www.intakehoses.com
you'll need two ruber 90 degree elbows and one 45 for 3.5 inch OD tubing.
The 90s are obvious and the 45 is for the turn right aftrer you pass through the shelf. I also used thier T-Bolt clamps as they have very good holding power and look nice. You can use worm drive hose clamps and save about 15 bucks though.
The aluminum tubing can be had at
http://www.onlinemetals.com
you only need a couple feet but you might get three. The main tube is about 12" long and then there is a 3" or so piece connecting the upper and lower halves at the pass through and then another short piece connecting the 45 elbow to the filter. Be sure and get 3.5 inch OD with
.065 wall
thickness! The tube will come raw and not be very pretty, use some 320 grit sandpaper and elbow grease to get a nice brushed look or go further and polish that puppy!
The filter is a K&N which is 9" long with a 3.5" ID opening and a 6" diameter base. K&N's part number is RE-0920. I got mine at O'Reilleys; but any decent parts store can order one. This is the biggest filter I could fit of the cone style, a bigger oval filter might work too, but this is the one I used. It's the most expensive part at about 50 bucks but the filter will make or break this set-up so get a good one.
You'll also need a pipe nipple or some such item and a couple feet of 1/2 inch ID rubber hose to hook up a PCV vent, try looking at the brass parts or air compressor parts at lowes or such.
You can re-use your IAT sensor or get a new one from your Dodge Dealer for about 30 bucks.
Thats about it, once you get the parts together just trial fit it all until you like it. The elbows will flex some and allow everything to line up pretty well.