Well, I've been on this site for quite a while now, just never really posted anything. I figure I'll give it a try...
This is my Silver 2008 Charger SE on chrome 22's. It has been fully bagged with actual bags and shocks, not just a bag over strut kit like most. I'm running the new Slam Specialties Kit with Slam RE7's up front and Firestone 2500's out back and Monroe shocks all the way around. I have two ViAir 480 chrome compressors and a chrome 5 gallon tank. An AVS 5 push button switch box controls it all with a gauge hidden in the glove box. It has been fully de-badged and a full face billet grill installed. it also has 10,000k HIDs. On the inside, i have replaced the front door speakers with a pair of Planet Audio 6.5" component set, and the rear deck speakers have been swapped with a nice set of Polk Audio 6x9's. In the trunk i have a RF P2 10'' woofer powered by a Pioneer 700w amp. I plan to swap out the deck and actually do a full, matching stereo setup in the near future, whats in there now was just stuff i already had lying around... everything done to this car has been done by me. without any further a due, here she is... let me know what you think....
these pics were taken @ a show last weekend...
**A Few Overall shots...**
** The Trunk Setup**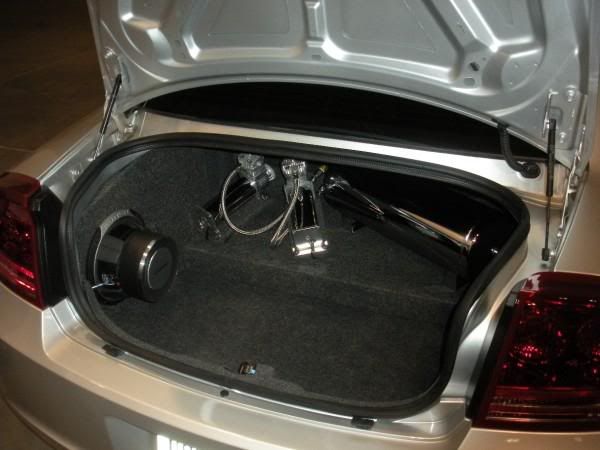 I'm gonna try to do a nice shoot of the entire car this weekend, so I'll post those when there done...