Discussion Starter
•
#1
•
In the aftermath of ElCobra's cam swap, I had the opportunity to make his Charger the lucky 2nd recipient of the Belly Pan Mod, v5.0 (serial number 0002). What we're accomplishing with this mod is to replace the four clunky spring nuts that never seem to align properly when you're laying under your Charger (or Magnum, or 300) trying to re-mount the belly pan. That's the kind of frustrating experience that can easily put a damper on the warm afterglow of a successful oil change, so I decided to develop something better than OEM. What you'll end up with after this mod is four bolts that project downward and allow you to mount the belly pan with wing nuts.
When I got to the Cobra Cave, the belly pan(s) were already removed; they hadn't yet been replaced after all of that high falutin' engine work (you know, the kind of stuff that'll never be listed in my sig, i.e., not a poor man's mod). So step 1, remove belly pan, had already been accomplished.
At this time, let me digress a slight bit and point out that the thing you want to remove to service your car is "Belly Pan 2." The narrow piece at the very front of the car is Belly Pan 1, and for the most part you don't ever need to remove it (good thing, because it's held on with 10 bolts and 6 rivets!).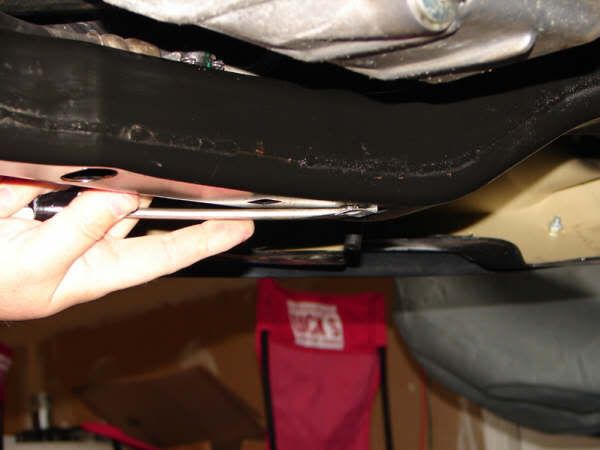 Step 2 is to remove the cheapo spring clip nuts that are the weak link in the belly pan mount. This is best done by a combination of prying with a screwdriver and pulling with needle-nose pliers. Three of the four on Matt's car came off with little trouble; the fourth one decided to hide in the frame for a while. We went spelunking with magnetic pick-ups, gave up in disgust, but later found it ON THE OTHER SIDE OF THE CAR! It IS a spring, after all. It must have traveled about four feet.
Step 3 is to CAREFULLY insert the bolt into the square opening in the member, holding it with needle-nose pliers. Position the end of the bolt over the round hole, and use a magnet to "grab" the bolt and pull it down through the round hole (I think Matt was so awe-struck by this process that he almost neglected to get a picture of it).
Step 4 is to put a washer and nut on the bolt and tighten them.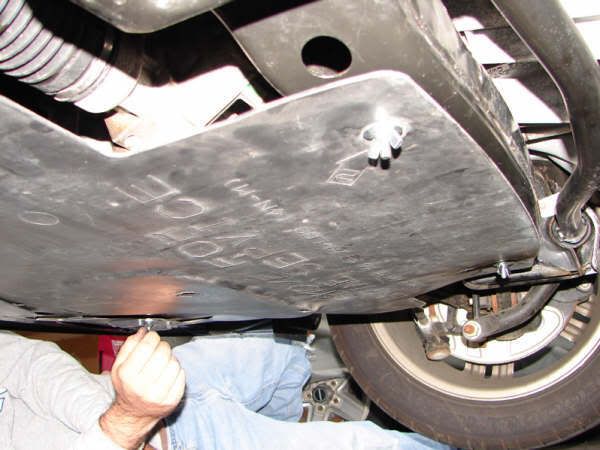 Step 5 is to install the belly pan and tighten it down with four more washers and four wing nuts.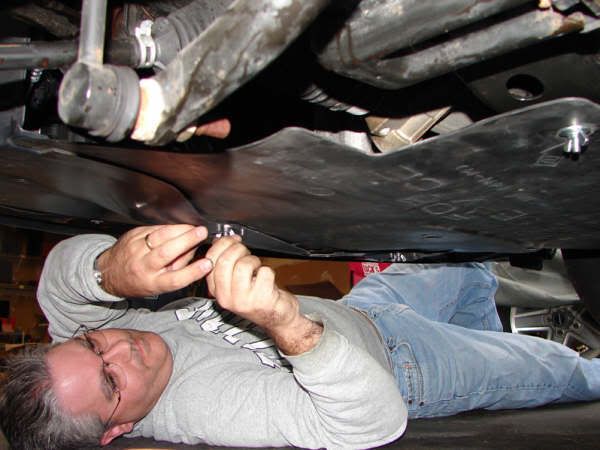 Looking good!
I have enough bits and pieces laying on my work bench to mod another 40 LX's, so don't be shy about hitting me up...