Discussion Starter
·
#1
·
March 23, 2005
Dodge adds hotter-rod model to
Charger
by
Alex Law
,
Auto123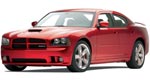 In an apparent effort to keep the momentum going on a car they aren't even selling yet, DaimlerChrysler has just introduced a high-performance version of the Dodge Charger.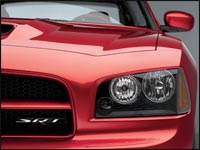 2006 Dodge Charger SRT-8 (photo : DaimlerChrysler)That would be the Charger SRT8, and if you guessed that it comes equipped with a 6.1-litre Hemi V-8 and can go from 0 to 100 kmh in about five seconds you probably read too many automotive stories.
When Charger does go on sale later this year, says Darryl Jackson, the vice-president of Dodge marketing for the Detroit-based Chrysler Group of Germany's DaimlerChrysler AG, the SRT8 model will have an ''infusion of Street and Racing Technology (SRT) DNA. That means it will provide exactly what performance enthusiasts want in their American muscle sedan: more power, world-class ride and handling, benchmark braking, functional and aggressive-looking exterior enhancements, and a race-inspired interior.''
During the heyday of the original Dodge Charger, performance was measured mainly in straight-line numbers and, as any Dukes of Hazzard fan can tell you, its fictional ability to get airborne and keep running after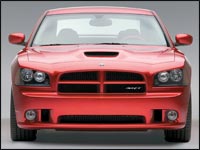 2006 Dodge Charger SRT-8 (photo : DaimlerChrysler)it crashed to earth. Today, says Jackson, ''SRT adds a complete approach with the all-new 2006 Dodge Charger SRT8.''
Dan Knott prefers to say the SRT ''approach to performance is multi-dimensional,'' and as the director of Street and Racing Technology for the Chrysler Group, his opinion has some validity.
By way of example, Knott points out that the 2006 Dodge Charger SRT8 ''incorporates Brembo brakes to stop as well as it accelerates. Its handling is world-class across a dynamic range. Its interior is designed specifically for the performance driver. And its performance exterior characteristics don't just look great, they're also functional.''
Chassis improvements on the lowered (by 13 mm) 2006 Dodge Charger SRT8 include SRT-tuned dampers, specially tailored spring rates and suspension bushings, and large-diameter anti-sway bars. Knott says handling is further enhanced for performance by a specially-tuned Electronic Stability Program.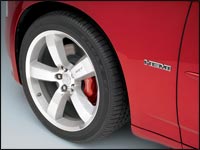 2006 Dodge Charger SRT-8 (photo : DaimlerChrysler)Charger SRT8 gets unique SRT-developed five-spoke 20-inch forged aluminum wheels, surrounded by high-performance Goodyear Supercar F1 three-season (i.e. not winter) tires with asymmetrical tread -- 245/45/20 in the front, and 255/45/20 in the rear. Four-season tires are optional.
All four wheels feature Brembo performance brake calipers, with the red finish characteristic of all Dodge SRT vehicles. Each four-piston caliper grips a vented rotor -- 360 x 32mm discs up front, with 350 x 26mm in the rear.
''Functional performance is at the heart of the SRT credo,'' says Knott, and to that end an all-new front fascia ''includes integrated ducts that help direct fresh air to cool the brakes.'' The front fascia also incorporates an air dam to reduce lift, and the hood is equipped with a scoop to funnel cool air into the engine compartment.''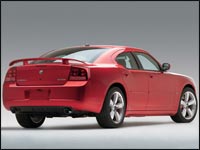 2006 Dodge Charger SRT-8 (photo : DaimlerChrysler)
​
The rear fascia features integrated lower strakes to direct air flow and cutouts to handle dual 3.5-inch exhaust tips. A decklid spoiler set on dual stanchions increases downforce for stability and traction in the kind of high-speed driving that would get you charged with reckless driving if you got caught doing it on the road.
Three exterior colors are available: Bright Silver, Brilliant Black and Inferno Red Crystal Pearlcoat.
Race-inspired interior appointments in the 2006 Dodge Charger SRT8 start with power-adjustable, sculpted and highly bolstered buckets in the front fitted with performance suede inserts to hold occupants during maneuvering. Rear seats have matching performance suede inserts, and all seats have contrasting red stitching.
Other sporting touches include ''carbon fiber'' technical leather trim on the steering wheel for better grip, and special finishing on the center stack.
A 300 kmh speedometer, a tachometer and temperature gauge feature dark faces unique to the Charger SRT8, and an LED display within the gauge cluster is driver-configurable for oil temperature, oil pressure and tire pressure readouts.
Available options on the 2006 Dodge Charger SRT8 include power sunroof, Kicker® audio system with six-disc CD changer, DVD-based Navigation system with turn-by directions and voice prompts, automatic temperature control, heated front seats and side air bags.
Also available are SIRIUS Satellite Radio (if the CRTC approves it for sale in Canada) and a UConnect hands-free communications system with Bluetooth technology. This system recognizes up to seven different Bluetooth-equipped cellular phones and responds to voice commands, utilizing a microphone in the rear-view mirror and the stereo system's speakers for hands-free conversations.
The 2006 Dodge Charger SRT8 interior is offered in Dark Slate Grey/Light Graystone.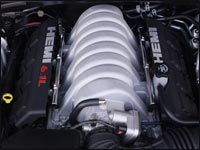 Dodge HEMI 6.1L V8 (photo : DaimlerChrysler)
​
As for that Hemi engine, in this application it delivers 425 hp and 420 lb-ft of torque, and it's attached to a five-speed automatic with Chrysler's venerable AutoStick feature, which lets the driver chose (within reason) the shift points.
Several features of the new 6.1-liter SRT HEMI recall the legendary Hemi engines of previous decades, says Knott, including the orange-painted cylinder block, and black valve covers.
To create the 6.1-liter version of the Chrysler Group's Hemi, SRT powertrain engineers applied tried-and-true engine-building tricks honed by generations of hot-rodders.
They created 85 more horsepower by adding more displacement, increasing the compression ratio, redesigning the cylinder head, intake and exhaust systems for increased flow, and increasing engine speed.
For that extra displacement, SRT engineers bored out the diameter of the cylinders in the HEMI by 3.5 millimeters each in order to go from 5.7 to 6.1 liters.
Compression ratio was also increased to 10.3:1 from 9.6:1, says Knott, increasing engine efficiency and power.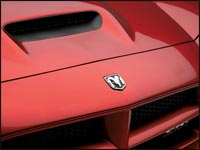 2006 Dodge Charger SRT-8 (photo : DaimlerChrysler)
​
Engine breathing was increased with new higher-flow cylinder heads, a specially designed intake manifold, and exhaust headers with individual tubes encased in a stainless steel shell, all unique to the 6.1-liter HEMI engine.
Larger-diameter valves and reshaped ports in the heads allow for maximized air flow, and the intake manifold was designed with larger-diameter and shorter runners for higher-speed tuning.
Exhaust is routed through a large-diameter (69 mm vs 63 mm ) exhaust system with 89-mm chrome tips.
To further increase horsepower, performance-oriented camshaft profiles were developed to allow more air in and out of the cylinders, as well as manage a higher engine speed. SRT engineers increased Hemi's peak power output engine speed nearly 20 percent to 6,000 rpm from 5,000 rpm. Intake and exhaust valve stems are hollow, and exhaust valve stems are filled with sodium to help dissipate heat more efficiently.
2006 Dodge Charger SRT-8 (photo : DaimlerChrysler)
​
The high-performance SRT 6.1-liter HEMI is strengthened with redesigned components, including a reinforced engine block, forged steel crankshaft, high-strength powdered-metal connecting rods, floating-pin pistons (cooled by oil squirters), and an oil pan modified to manage oil return to the pan sump at high engine speeds.
Finally, a heavy-duty four-flange prop shaft sends the torque from the transmission to an upgraded differential and axles.
The 2006 Dodge Charger SRT8 will be assembled at Brampton Assembly Plant here in Canada, at Chrysler's Brampton facility, and overall we think Daisy would approve. And if you don't know who Daisy is, you probably don't really want a Charger SRT8.
Link:
http://www.auto123.com/en/info/news/news,view.spy?artid=38048&pg=1
​