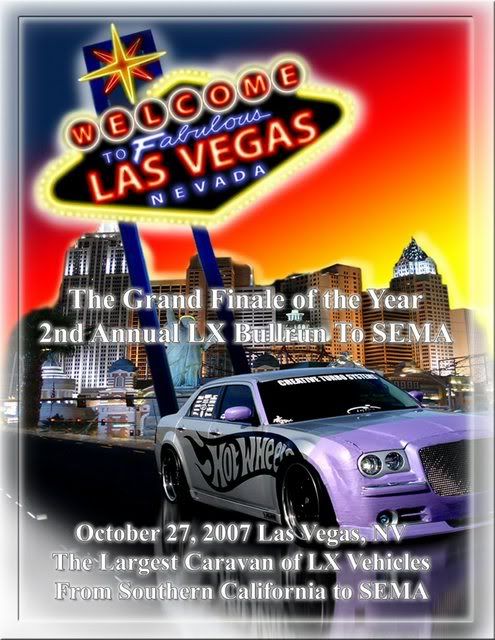 Here we go again; with the success of last years LX Bullrun we will make the trip to Vegas again this year. We will have the support of Chrysler, Mattel Hot Wheels, Meguiar's, and others this will be huge. With almost 70 LX vehicles making the trip I expect we will have 100 plus cars this year. There will be media attention from all over; this is a great opportunity for us to represent our community. We made a huge impact last year when we rolled into SEMA that it is still talked about; let's really bring it on this year.
This is a caravan (one day) only with a meet and greet in the SEMA Gold parking lot. There will be caravans from LA, Orange County, Arizona, Northern California, Nevada and San Diego.
This event is open to all LX vehicles.
We are trying to rally up as many cars as we can, don't read about it be there. Simply make a post to say you're in. If you are going to blue tape your car allow yourself 2 hours+, so do it the night before.
SCHEDULE:
Orange County
Time: 5:45am - Leaving 6:00am
Meet: Harbor & the 405 at the Hooters Parking lot
1507 S. Coast Dr.
Costa Mesa, Ca. 92626

San Diego
Time: 5:30am leaving 5:40am
Meet: Deer Springs Rd and The 15 Frwy.

LA
Time: 6:15am - Leaving 6:30am
Meet: Irwindale Ave. & the 605 fwy at the Dennys parking lot
6550 IRWINDALE AVE
IRWINDALE,CA 91706

Inland Empire
Time: 7:00am - 7:30am
Meet: 15 and Summit Exit (Starbucks parking lot)
15270 Summit Ave. #100
Fontana, Ca. 92336
909-803-2571

Barstow Outlet Mall
Time 9:00am - Leaving 9:30am
The final stops will be Baker (gas), Stateline and we will stage in the Hilton Parking lot prior to our entrance to the SEMA parking lot.

Stateline Stop:
Time: 11:00 -11:30
Buffalo Bills Resort & Casino.
31700 Las Vegas Blvd S, Jean, NV 89019
Those who arrive first please go to the farthest parking lot in the back of the Casino, this is off of EastPrimm Blvd. the rest will meet up there as we arrive.
Lodging:
This is a one day event, IWe will stay at the Circus Circus Saturday night, it is the least expensive palce for one night. Use the SouthWest link for the best price. When you click on the link go to Travel Products left side of page. Southwest.com
Because most will be there Saturday only I suggest that maybe some members share a room.
Here are videos form last years event:
WebRidesTV
WebRidesTV
WebRidesTV
SEMA starts October 30 – November 2, 2007. SEMA is not open to the public and you will not be able to attend the show, unless you meet their criteria.
Special thanks to Hazman for the awesome flyer
Policies/Disclaimer:
• This event information may NOT be published on any website without prior written permission from fatchance.
• Promotions: If you wish to use this event, or event title, to promote your own event, business, service, etc., send a detailed PM to fatchance for approval. No flyers or posts w/o permission
• Suggestions: This event is pre-planned. If you have ideas or suggestions for future events, please PM fatchance to avoid confusion and/or conflict. Please do NOT make a public post
• Drawings: We don't plan giveaways/drawings for every event. If you wish to donate prizes/gift certificates for this event, PM fatchance for further info. Please do NOT post in the thread
• Vendors: Not every event will be open to vendor displays. To avoid conflict, no vendor displays will be permitted without prior written consent from fatchance. Please PM your request
• Rights: I reserve the right to refuse entry to anyone and participants who engage in unacceptable behavior will be asked to leave
• Liability: All participants agree to release and discharge fatchance, and/or any other entity connected with this event, from any and all liability for damages, loss, injury, claims or judgments resulting from their participation