Give a Offer- REC AM/FM W/6-DISC CD/MP3 PLAYER AND DVD NAVIGATION
---
The Mopar Navigation Radio (REC) combines a 5.8-inch full-color display, AM/FM stereo, 6 disc CD/MP3 Player and Navigation System that utilizes DVD technology, all in one handy unit. This sophisticated, yet simple-to-use navigation system guides you to your precise destination through the use of Global Positioning System (GPS) satellite technology and an onboard computer. The system offers turn-by-turn route guidance with voice instruction, automatic re-route calculation, unique smart-spelling feature, extensive listings for point of interests and enough memory to store 100 personal addresses. Unit includes a geographic DVD with routing directions for the entire mapped United States and parts of Canada. The radio features 12 AM, 12 FM, and 12 Sirius Satellite Radio pre-sets. This system is Sirius Satellite Radio capable and displays station names, song title and artist names
Asking 1000.00.
If you have a offer please e-mail me at
Carlosar33@aol.com
---
Carlos Arteaga
2006 Dodge Charger R/T, Metalic Black on 22 inch panther Rims, Flow master Mopar Intake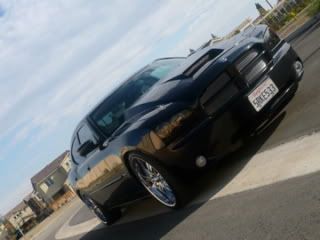 Don't forget to rate my car.
http://www.cardomain.com/ride/2133075
---
Last edited by carlosar33; 05-27-2008 at

10:51 PM

.
Trade ya an Iphone and 300 bucks in Accessories
I work at Apple!!!! why would i need a iPhone? lol no thanks any ways!!!
Senior Member
Join Date: Mar 2007
Location: Redlands, Cali
Posts: 1,828
Quote:
The Mopar Navigation Radio (REC) combines a 5.8-inch full-color display, AM/FM stereo, 6 disc CD/MP3 Player and Navigation System that utilizes DVD technology, all in one handy unit. This sophisticated, yet simple-to-use navigation system guides you to your precise destination through the use of Global Positioning System (GPS) satellite technology and an onboard computer. The system offers turn-by-turn route guidance with voice instruction, automatic re-route calculation, unique smart-spelling feature, extensive listings for point of interests and enough memory to store 100 personal addresses. Unit includes a geographic DVD with routing directions for the entire mapped United States and parts of Canada. The radio features 12 AM, 12 FM, and 12 Sirius Satellite Radio pre-sets. This system is Sirius Satellite Radio capable and displays station names, song title and artist names
Asking 1000.00.
If you have a offer please e-mail me at
Carlosar33@aol.com
Wow
, I never seen anyone post so much details for a stock Navi
did you copy/paste from the dodge website?
Free bump, if you want to increase your sale I would recommend that you do a search so you can read posts of previous stock Navi sales.
---
SRT8 Options l ll & lll, Sunroof, and Side Airbags
NO MORE HEAVY 22's, only stock 20's
Purchased on 10/12/07
I'll trade you a nitro rs4 RC race car and a crap load of accessories? Fully RTR!

its a RS4 3 Evo - hpiracing.com
---
Last edited by asonitez; 05-30-2008 at

01:25 PM

. Reason: more info
Posting Rules

You may not post new threads

You may post replies

You may not post attachments

You may not edit your posts

---

HTML code is Off

---