Stuck in PARK
---
Fahad was hungry at 8.20pm
Fahad drives to his local McDonald branch!!
Fahad orders his Big Mac upsized and ready to go, and another meal for his friend...
Fahad pulls up to the delivery window, checks the order, but has a missing meal, so he shifts his Automatic tranny from D to P in otder to place his food safely in the back and not spill his drink...
2 mins later, he gets the rest of his order and is ready to head home and enjoy his meal...
Brake applied, he tries to shift into D, but it wont budge...
He tries over and over and over again... Then shuts off the car, and starts her up again, but no use... This is where I realized I might be in trouble...
So I walk out and check under the car to check if there is something out of the ordernary? Nothing!! Then refered to the manual and saw the page about the brake release that is used for towing the car... This was on the passenger side of the shifter, when u remove the chrome shifter trim u can see clearly, a lil red/pink lever under the shifter plate that has to be pushed in towards the middle of the shifter area... This is accessed from the side after removing the coin or hollow part on the passenger side of the center console, where u will find a small hole to gain access to it...
Tried it over and over again, it wont budge, tried rocking the car back and forth, no use, tried to disconnect the battery?? To reset the car, but no use...
I held up traffic at the window for 3 hrs, at 11.30pm the tow truck finally arrived, asked what the problem was!! I told him the shifter is stuck in park, and all of a sudden he pulls out a long screw driver, gets in the car, pulls the chrome trim off the shifter bezel, sticks the screw driver in and tackles a steel cable towards the driver side, and there u have it!! It released...
The damn thing released without effort at all... Made me look like a damn muppet... So he said, that the problem is still there, if I shift it back into P it will lock again.. So we released it, took it to the dealers parking lot, filled in a form in an aggressive and angry type of way, and should be getting it looked at in the morining...
For 3hrs, the people in McDonalds behind me, were like, what are you up to? I was like my gear is jammed, so they drive off laughing... It was damn embarrising cuz it was practically a new car... This sucks, this is the only day I really regret buying this car.... This is rediculous, I only posted this to be a heads up for you LXers out there that might be caught in this situtation...
Instead of waiting for hrs, just toggle that cable and ur done...
I will post pictures of the cable as soon as I get the stupid car back... Not happy with my Black Beauty today...
EDIT: PIX OF A QUICK ON SITE FIX!!
Shifter is stuck in P / Park!!
Undo the chrome bezel, by just pulling it off!! Easy though you dont want to break the side tabs that hold it into place...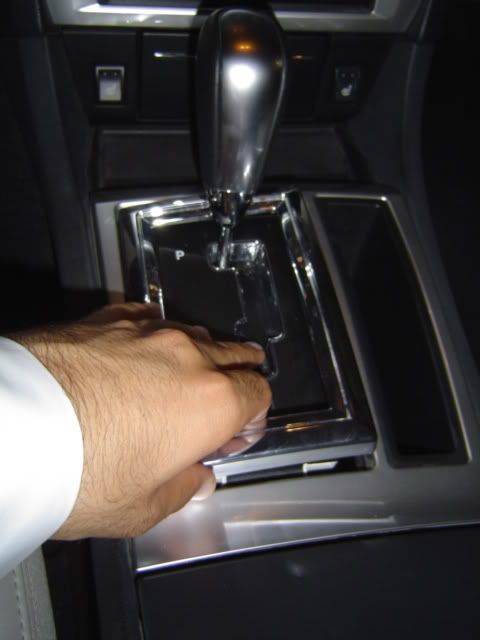 Now undo the side pocket or storage bezel or whatever its called!! Simply pull it out...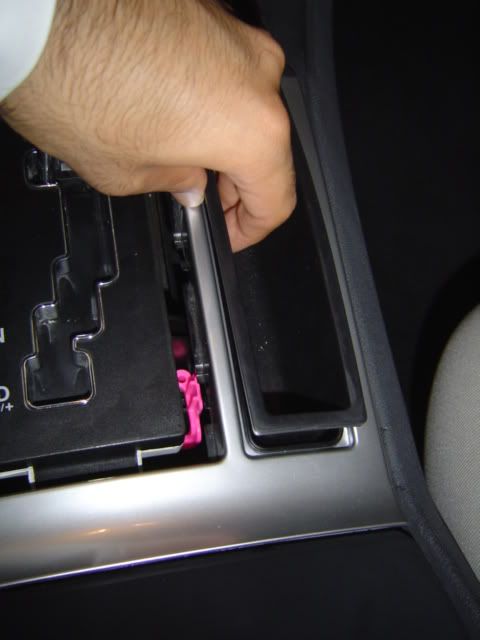 After you have both pieces are out, you can visibly see a pink lever under the shifter plate and a sqaure hole on the side of the storage pocket to push it in!!
Try pressing the lever inwards and shift down!!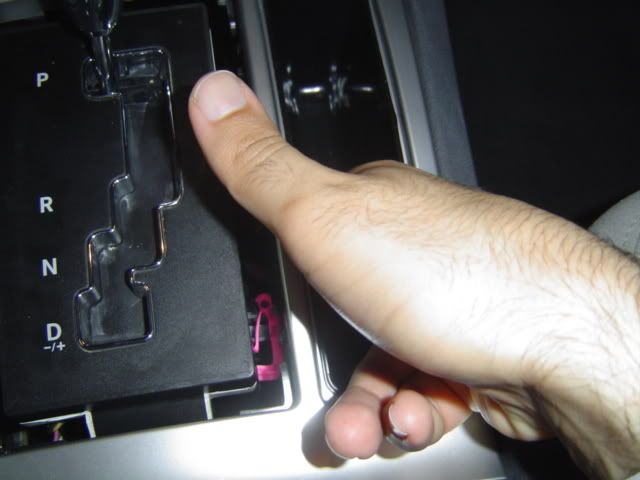 Incase that does not work, which might be due to a failed mechanism, try locating the cable that will release the shifter lock... After locating, insert a screw driver or something long enough to go in and toggle it left... the shifter should release and shift down into gear...
Please do not mistake this for a fix... This only helped me to get the car to the dealers... The mechanism was replaced under warranty... This is a quick fix incase it happens to you when you really need the car...
Update:
When parking the car the next time after releasing the cable, the shifter is still busted but when you park the car the key will not come out of the ignition.... Try shutting the car off in N, Neutral, and apply the foot brake to make sure it wonder off somewhere it shouldnt... The key should pull out in N if the mechanism is broken, cuz it thinks its in P...
FIXING:
New shifter provided by the dealer, mine was done under warranty no questions asked...
Or buy a Billet replacment from BT, park lockout piece... Tricky to install but it will save you...
---
06 Dodge Charger R/T BLACK:: PREDATOR::ARIA CF CAI::MOPAR/BORLA CAT BACK 112::85MM TB::MoPOWER CHIN SPOILER:: DAYTONA GRILLE::SRT SPOILER::SRT8 REAR AIR DIFFUSER::LEATHER DOOR PULLS::ILLUMINATED DOOR ENTRY::BT INTERIOR AND ENGINE GOODIES::22ELITE CONSOLE COVER w/ EMBROIDERY:: ULTIMATE PEDALS::MoPOWER HEMI FENDER EMBLEMS::COLOR MATCHED ENGINE COVER w/ CHROME HEMI LETTERS::R1 ROTORS:: DaBEAR'S 5K HIDs::MAKAVELLI FORGED 22s::TRAN 2TONE TINTED TAILS::KW V1s:: AE Carbon CF RAD COVER, FUSEBOX COVER & FIREWALL::
---
Last edited by Fahad R/T; 09-27-2009 at

07:36 AM

.
| | |
| --- | --- |
| The Following User Says Thank You to Fahad R/T For This Useful Post: | |
That sucks man..... Great story tho should write a book
... you just forgot to tell us what you ordered.
---
To view links or images in signatures your post count must be 10 or greater. You currently have 0 posts.
To view links or images in signatures your post count must be 10 or greater. You currently have 0 posts.
To view links or images in signatures your post count must be 10 or greater. You currently have 0 posts.
well, um. .. how was your mcdonalds??
yup yup and yup
---
i had the same thing happen in the garage had to have the car towed from the GARAGE to the dealer, I was late to the meeting and ended up busting the shifter after the pink lever did not work!
At least the dealer replaced the mechanism
ugh
that sucks,
So did you super size it?
---

To view links or images in signatures your post count must be 10 or greater. You currently have 0 posts.
Grasso
3 hrs for a tow truck is rediculous. hope youre back in her soon.
should have went to In-N-out =)

but on the serious note thanks for the heads up. I've read a few of these tranny locking up in P stories. That cable trick just might come in handy. Thanks.
---
To view links or images in signatures your post count must be 10 or greater. You currently have 0 posts.
Well the Supersized Big Mac meal got cold... The Tow truck I called was dealing with an accident on the road and had to tow that car away before I called, and they didn't have another truck out for the night...

So a very bad night for me... What I am wondering is will it happen again?

Plum Floored, how long did it take the dealer to fix the mechanism?
Yeah, that really does stink. Thanks for the heads up.
---
2007 Charger SRT8 I,II,III with 14,000 miles.
Senior Member
Join Date: Nov 2007
Posts: 1,139
There is a writeup on lxforums about how to take everything apart and make the repairs yourself. The replacement part is going to fail too unless they have changed the design. The do-it-yourslf writeup shows how to reinforce the stupid pink plastic thing with some wire.
Its just a bad overall design. I'm debating on whethere to take it apart now and modify it before it breaks.

-GB
Hey bro, sorry couldnt be of much help yesterday.. and thanks for the heads up on the steel cable..

Inshallah this will be a quick fix and she'll be back good as new.
---
2007 TorRed R/T R&T (Gone but not Forgotten): CBD CF SRT hood, Kooks LT's, SLP LM2 cat-back (gone), Corsa Cat-back, MM ported throttle body, AFE Stage 2 CAI, Prededator 91 Perf CAI tune (+3.5% fuel), Ultimate Pedal kit, BT Visor disguisers, sill plates and other goodies, 35% Tint, 22elite console cover
To view links or images in signatures your post count must be 10 or greater. You currently have 0 posts.
.

To view links or images in signatures your post count must be 10 or greater. You currently have 0 posts.

Posting Rules

You may post new threads

You may post replies

You may not post attachments

You may not edit your posts

---

HTML code is Off

---