Junior Member
Join Date: Dec 2009
Location: Arizona
Posts: 10
(Thread Starter)
Charger on 26"s w/ Spindles Fabricated
---
Hey everyone! new to the forum but wanted to see what you guys thought about the 26" wheels on a charger, i noticed it has been pretty controversial since not alot of guys are doing it and the wheels are pretty rodonkilous! Especially for such a small car lol with that being said i took my car to one my buddies that does alot custom fabrication here in Arizona and had him work his magic let him get the car to fit the wheels. We were using a 275/25/ that we set the spindle up to fit that size of tire on the 26". Overall everything went great and fit perfect! i ordered the wheels that i am going to have on the car and they should be here in a week or so so i will post some photos of the car on the 26"s but for now i have some photos of the work that was done to the spindles.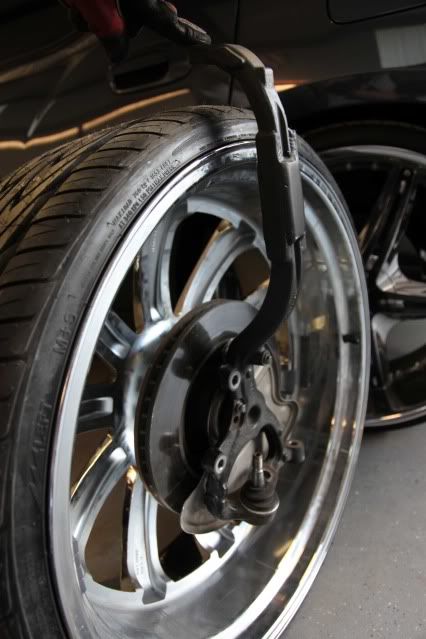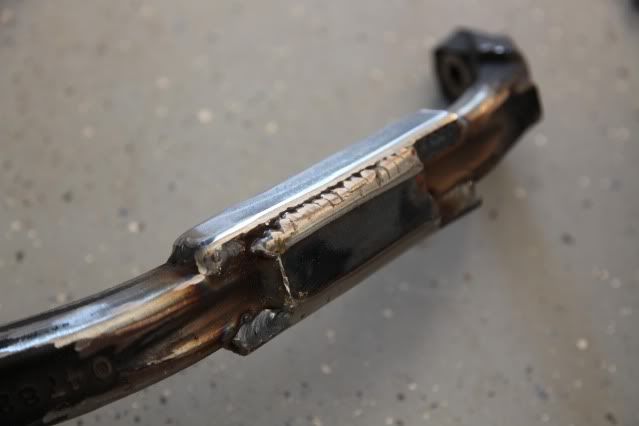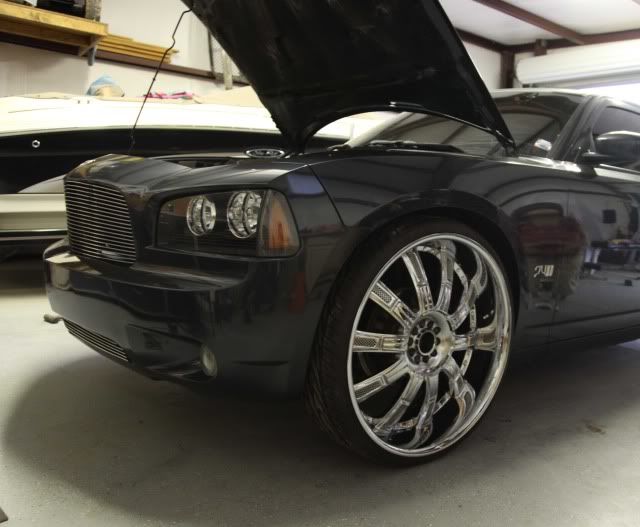 im not a fan. but to each his own right?

IMHO anything over 22 is too much on these things. but we all have different taste. im pretty sure that will be the majority vote here.

also "such a small car"??? really??

I think trucks should be lifted and cars should be lowered....but thats just my 2 cents.
---
2008 SE PLUS Black SOLD
1997 Jeep ZJ Limited 4.0 White
1985 Dodge W150 5.9 Grey SOLD
2007 Jeep WK1 SRT8 Black
2008 300 SRT8 Black
"It could kill you in a heartbeat, but I tell you this: it is a straight shot of heroin to the veins, a sledgehammer to the forehead, and I love it as I have never loved another street car."
Junior Member
Join Date: Dec 2009
Location: Arizona
Posts: 10
(Thread Starter)
I was putting it into perspective that 26"s are big for a car the charger is small compared to a Tahoe... and the wheels you would expect on a larger truck/Suv
looks pretty good, anxious to see some full car pics so I can get the whole perspective.
---
2007 Silver Steel Dodge Charger SE, 3.5 V6, Hood Struts,De-badged, spoiler, De-molded, BT MOPAR M black Hood emblem, BT black anodized Pistol Grip Shift knob, BT "Old school Charger script shift insert, Spoiler,20% tint. Plasti Dip chrome shifter ring, plasti dipped stock 17's, Daytona R/T dual exhaust! stock reso's deleted and 4" tips installed.20" Black/machined Challenger Replica's. Eibach Pro Kit, Koni STR-T, Matte black hood decal. Grip Tuning Fascia
Welcome to the 26" club. What wheel did you go with?
Thats wassup...Chargers look so purrity with some 26s sitting up under it!!!!
not a fan, especially after my buddies and I bending 18 24's collectively on 30 and 25 series tires. 9 of them were me.

Sorry, good luck.
---
To view links or images in signatures your post count must be 10 or greater. You currently have 0 posts.
Mortgage Professional - Indiana Florida Georgia
2012 F150 FX4 - 24s, 2 10's, Halos/LED Strips, Tinted LED Tails, Pioneer Navi, HIDs (Deathray variety), LED Kit
2013 Fusion Titanium - Tinted tails & Corners, LED strip, HIDs, LED kit, 15% Tint
2008 Explorer XLT 4x4 - 22" wheels, Pioneer AppRadio, Halos, HIDs, Etc[/COLOR]
nice, can't wait to see some pics.
---

To view links or images in signatures your post count must be 10 or greater. You currently have 0 posts.

Charger SRT8 24"x 10"s, lambo doors, k&n cai, magnaflow exhuast, hid headlight & fogs, tinted tails, led interiors, viper 5900 remote start, 22elite leather console,
Aren't Charger spindles cast? If they are, your spindles are going to crack. You can't weld cast without stressing the material severely.

If they are forged, then you will be okay as long as your buddy is a good (no comment from me on this) welder.

-Brent
---
Mechanical Engineer - Eaton Corp. / Tolco

2008 Steel Blue SRT8: MagnaFlow cat-back, BT catch can. Much more to come...
My spindles are welded and they have over 30,000 miles on the 26's and i have no cracks or bends. Knockin on wood
Posting Rules

You may post new threads

You may post replies

You may not post attachments

You may not edit your posts

---

HTML code is Off

---